Norway has selected the Sikorsky MH-60R Seahawk to replace part of its fleet of NH Industries (NHI) NH90 maritime helicopters which were ditched last June on the back of years of delivery delays.
An initial six MH-60Rs will be acquired, the country's defence ministry says. These will be operated for the Norwegian coastguard but "will also be prepared for equipment for anti-submarine operations".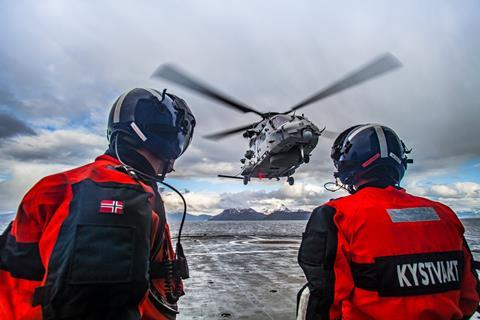 Oslo has set a total budget of NKr12 billion ($1.1 billion) to replace the planned fleet of 14 NH90s – eight for the coastguard and six for anti-submarine warfare (ASW) tasks.
However, Norway has yet to decide whether it will acquire additional helicopters or use other systems to address the ASW capability gap.
Seahawk deliveries could begin in 2025 providing an agreement can be struck with the US government this summer. Approval from Norway's parliament for the acquisition is also required.
Discussions have already taken place with Washington to expedite deliveries, says defence minister Bjorn Arild Gram, and Norway has the possibility of taking three MH-60Rs originally earmarked for the US Navy.
In preparation for the arrival of Seahawk fleet, Oslo will send crews to fellow Nordic MH-60R operator Denmark for training.
"Through this concrete example of Nordic defence co-operation, we will gain experience from Denmark before phasing in the helicopters in Norway," says Gram. "It will help us to gain full operational capability more quickly when we receive our helicopters."
Norway originally expected its NH90s to be delivered in 2008, but by the time it cancelled the procurement in June 2022, just 13 examples had been received.
Justifying the decision last year, Gram said no amount of investment would enable the NH90 to meet the country's requirements.
Norway is now demanding a full refund of the NKr5 billion it has spent on their acquisition but has yet to reach an agreement with NHI.
Nordic neighbour Sweden also plans to ditch its fleet of NH90s, replacing them with UH-60 Black Hawks.

Dominic Perry is deputy editor of Flight International but also contributes extensively to flightglobal.com. Although specialising in the coverage of the helicopter industry, he has written on most topics in aerospace – be they commercial, defence or business aviation. In addition, there has been an increasing focus on the decarbonisation of the industry and zero-emission flight initiatives.
View full Profile