Raytheon Technologies has unveiled a new airborne sensor the company says will use artificial intelligence (AI) to identify targets in real time.
Known as Raiven, Raytheon calls the technology "intelligent sensing" – pairing AI algorithms with electro-optical and infrared imaging. The company says the ability to simultaneously identify objects both optically and spectrally has never existed in a single system.
Raytheon aims to have the technology on aircraft including the US Army's incoming Bell tiltrotors.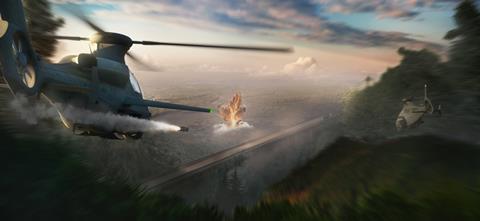 "The future battle space will consist of a myriad of threats from all directions evolving at an unprecedented pace," says Torrey Cady, vice-president of surveillance and targeting systems at Raytheon Intelligence & Space. "Raiven improves platform survivability and keeps the war fighter safe by providing accurate, persistent target observation."

The system will incorporate hyper-spectral imaging, and light detection and ranging – better known as LiDAR – to enable operators to see up to five times farther and clearer than traditional optical imaging, Raytheon says.
"This helps increase platform survivability and gives the war fighter decision advantage over peer threats," the company says.
Raiven pairs imaging capabilities with onboard AI to automatically detect and identify threats, which Raytheon suggests will "drastically" reduce operator workload.
Raytheon is pitching the first version of the system – designated RT-1000 – for the US Army's Future Vertical Lift aviation modernisation initiative.
The company says Raiven will be compatible with both the Future Attack Reconnaissance Aircraft and the Future Long Range Assault Aircraft replacement for the Sikorsky UH-60 – recently confirmed to be Bell's in-development V-280 Valor tiltrotor.