Russian Helicopters has quietly launched a new variant of its long-running Mil Mi-171 heavy-twin aimed squarely at the offshore oil and gas market. However, key details remain shrouded in secrecy.
Aside from a handful of characteristics such as maximum take-off weight (MTOW) and range, the manufacturer is staying silent on much of the Mi-171A3's specification and the differences over the current A2 model.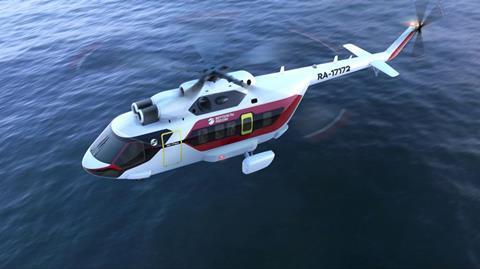 Indeed, the airframer goes so far as to say that digital renderings released by parent company Rostec do not entirely reflect the final configuration of the helicopter.
But there are some clear changes over the A2: although MTOW remains at 13t, range climbs by 108nm (200km) to 540nm and passenger capacity rises from 20 to 24. In addition, the helicopter will be fully compliant with international oil and gas transport standards.
Automation has been also been added, says the airframer, including for take-offs and landings. However, the identity of the engine or avionics suppliers have not been released; twin Klimov VK-2500PS-03 engines power the current variant.
While it is hard to accurately discern from the digital renderings, the A3 appears to retain the Mi-171's five-blade main rotor and X-shaped tail rotor. But it is unclear if the fixed landing gear of previous variants has been kept or replaced by retractable gear.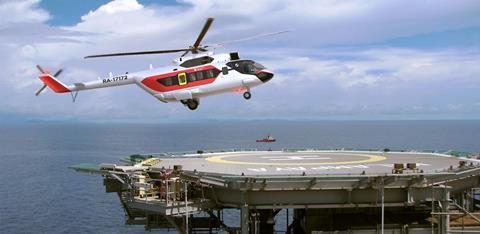 "The rotorcraft has been created as a result of co-operation among Rostec companies. Expanding hydrocarbon production on the Arctic shelf requires a fleet of reliable and modern helicopters, which can be operated in the most difficult weather and climatic conditions," says Andrey Boginsky, director general of Russian Helicopters.
Production of an initial prototype is already under way, says the manufacturer, work on the design having commenced in 2018.
First flight is pegged for 2021 – ahead of an appearance at next year's MAKS air show in Moscow – to be followed by service entry in 2022.
Composite material appears to feature heavily in the A3's construction: the carbonfibre nose and fuselage panels are being manufactured by Progress Arsenyev Aviation, and the cargo floor by Kazan Helicopters. Both are sister companies within the Russian Helicopters group.