The US Naval Air Systems Command has finished a two-week sea trial with the Sikorsky CH-53K heavy-lift helicopter in the Atlantic Ocean.
The trials took place starting in early June on the USS Wasp, an amphibious assault ship, the US Navy said on 24 June.
The CH-53K is to replace the US Marine Corps' (USMC's) CH-53E Super Stallion as a means of transporting troops and heavy equipment, such as artillery or light armored vehicles, during amphibious assaults. It is capable of lifting 12,250kg (27,000lb) over a mission radius of 110nm (203km).
Amphibious assault ships, such as the USS Wasp, are akin to a miniature aircraft carrier that, in addition to carrying aircraft and helicopters, can transport hovercraft and other shore assault vehicles within their hull. These ships would be a typical base of operations for the CH-53K, in addition to land bases and larger nuclear-powered aircraft carriers.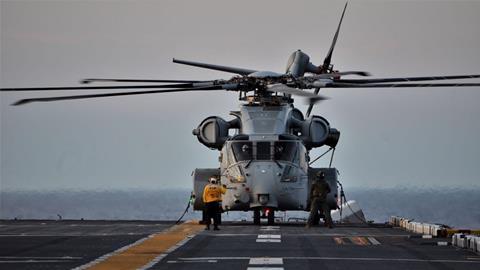 Sea trials included a series of tests on the type, including blade fold; launch and recovery; rotor start and shutdown; and shipboard compatibility testing. The tests were conducted in increasing wind speeds and with wind coming from different directions to simulate adverse conditions on the flight deck of an aircraft carrier.
"I'm very pleased with how the ship tests went," says Colonel Jack Perrin, H-53 helicopters programme manager, who notes that the bulk of the testing involved launch and recovery flights. "We were able to assess the K taking off and landing day, night, and with night-vision goggles and it performed extremely well."
In total, the helicopter completed 364 ship landings and take-offs, says manufacturer Sikorsky.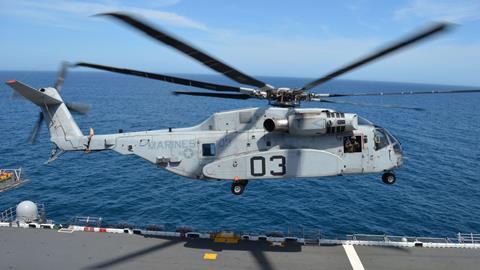 Other ship compatibility tests included towing the aircraft around the USS Wasp's deck and into the hangar, as well as making sure the aircraft fit into specific locations and assessing chain and tie-down procedures. The ship's crew also performed maintenance on the CH-53K while aboard.
The USN plans for the helicopter to start initial operational test and evaluation in 2021. It wants the aircraft to be first deployed to the fleet in 2023 or 2024.
The USMC had planned to order 200 examples of the CH-53K. Though, citing needs to spend money elsewhere, for example, on anti-ship missiles, the service indicated in March 2020 that it might buy one-third fewer aircraft. Officially the USMC's programme of record for the CH-53K has not been changed, however.