US certification of the Airbus Helicopters H160 could finally be obtained this year – almost three years behind the type's initial validation by European regulators.
European Union Aviation Safety Agency (EASA) approval for the medium-twin H160 was achieved on 1 July 2020, but progress on the other side of the Atlantic has been glacial.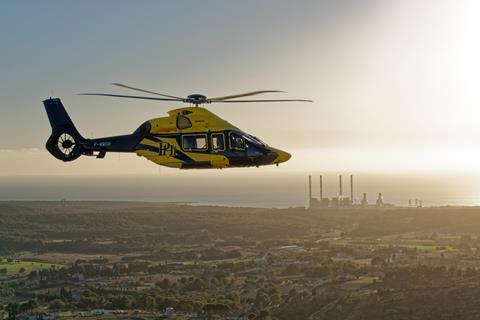 But Bruno Even, Airbus Helicopters chief executive, told reporters on a 25 January briefing that the milestone should be reached this year.
Recent certification points covered with the US Federal Aviation Administration (FAA) include a maintenance evaluation and related update to the flight manual.
While he concedes there are still steps remaining "to allow entry into service", these are "progressing well" and "we expect certification in the course of 2023".
"We would have expected this earlier in 2022, but we are where we are and we are progressing well with the FAA now," says Even.
US validation is an important step for the airframer to open up the oil and gas market: Airbus Helicopters in 2021 signed an agreement with oil major Shell and operator PHI covering the acquisition of four H160s. In addition, the airframer was to provide an example to PHI ahead of final deliveries to enable a year-long route-proving exercise.
Even attributes the delay to the certification of an all-new aircraft being "a complex context", with "many topics to be addressed, to be closed with the authorities" – in this case not aided by the disruption caused by Covid-19.
"But we are progressing well; the FAA is fully back to operations. So the context is positive."
An EASA airworthiness directive covering the H160 – and several other Airbus Helicopters types – has been in force since August 2022 related to the simultaneous failure of multiple cockpit multi-function displays (MFDs).
EASA says the fault is due to "design deficiencies in the Ethernet network management of the Integrated Modular Avionics suite which caused MFD failures after damage to an Ethernet wiring connector and/or an avionics equipment".
It requires operators to check the MFDs every 110 flight hours, or accept operational restrictions including a ban on flights in instrument meteorological conditions or night visual meteorological conditions until the inspection has been performed.
Last year Airbus took in 12 orders for the H160, down on the previous year's total of 52, albeit that included a 40-unit commitment from the French government: 10 for the Gendarmerie Nationale, and 30 M-model variants for the country's armed forces.
Even says the backlog for the type now stands at "more than 100 helicopters" and the challenge this year will be to "ramp up in terms of deliveries".
In 2022, Airbus Helicopters booked 374 gross orders for both civil and military rotorcraft, or 362 net orders, down slightly on the 419 gross orders booked in 2021.
Star performers included the H125 and H130 light-singles, which saw orders rise to 161 and 55, up from respective figures of 147 and 48 the previous year. Its German-built H135 and H145 intermediate twins continued to sell strongly, albeit both saw orders fall in 2022 – to 41 and 83 from totals of 65 and 93 in 2021.
An order increase was even seen for the laggardly H175, rising to eight from four the previous year. Airbus Helicopters also took in 14 commitments for the Super Puma family – the H215 and H225 – up from 10 a year earlier, largely thanks to a deal for 12 H225M Caracals from the United Arab Emirates.
Deliveries in 2022 were flat year on year at 344 versus 338 in 2021.
Even says last year showed "positive momentum", albeit there was a "slight slowdown" on the civil side during the second half on the back of economic uncertainty.

Dominic Perry is deputy editor of Flight International but also contributes extensively to flightglobal.com. Although specialising in the coverage of the helicopter industry, he has written on most topics in aerospace – be they commercial, defence or business aviation. In addition, there has been an increasing focus on the decarbonisation of the industry and zero-emission flight initiatives.
View full Profile