The US Army has grounded its entire fleet of Boeing CH-47 Chinook heavy lift helicopters, citing a risk of engine fire.
The US Army Materiel Command revealed the move on 30 August, halting flight operations for the service's fleet of CH-47 types, which the FlightGlobal 2022 World Air Forces directory lists as more than 500 airframes. The grounding order went out at an unspecified time within 24 hours of 18:00 EST on 30 August.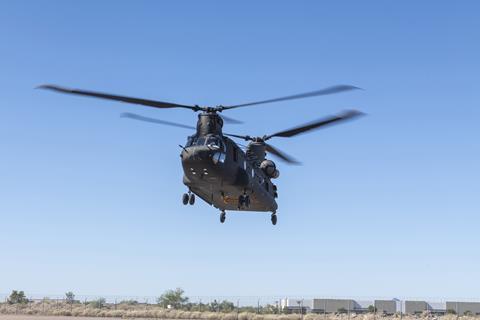 The problem apparently occurred in the aircraft's Honeywell T55 engines, two of which power the Chinook. The engine maker says that O-rings "not meeting Honeywell design specifications had been installed in some T55 engines during routine and scheduled maintenance at an Army Depot".
According to military officials, the problem created a risk of engine fire, which led to the grounding. A small number of fires are known to have occurred, but no fatalities or serious injuries were reported.
The army describes the move to ground the CH-47s as taken "out of an abundance of caution".
Honeywell says that it is working "in full coordination" with the army, and believes that the deficient O-rings have been identified and isolated. The company adds that the parts in question were not original engine production or overhaul performed by Honeywell.
The company's website states that it has manufactured more than 6,000 T55s, which it claims have logged approximately 12 million hours of operation on the CH-47 and MH-47 Chinook helicopters. The type has been in service with the army since the 1960s.
Boeing, which produces the Chinook, said on 30 August that it was not yet able to comment on the matter.