The US Army has selected Bell and Sikorsky to design and test Future Attack and Reconnaissance Aircraft (FARA) Competitive Prototypes.
The two companies advanced to phase two where each is to complete a detailed design, build and test helicopters. The winner of the FARA contest will be selected in a fly-off competition no later than the fall of 2023.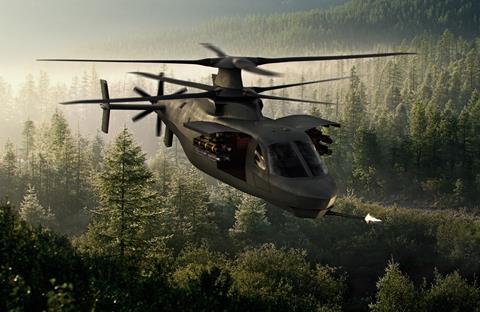 The amount of each contract award was not disclosed. The US Army did not immediately respond to a request for comment.
"The Future Attack Reconnaissance Aircraft is the Army's number one aviation modernisation priority and is integral to effectively penetrate and dis-integrate adversaries' integrated air defense systems," says Bruce Jette, assistant secretary of the US Army for acquisition, logistics and technology. "It will enable combatant commanders with greater tactical, operational and strategic capabilities through significantly increased speed, range, endurance, survivability and lethality."
Bell and Sikorsky's proposals stood out from the competition in that each put forward designs based on aircraft already flying.
Sikorsky's Raider X concept was based on its S-97 Raider demonstrator, a co-axial helicopter with a pusher propeller that first flew in 2015. The Raider X is about 20% larger than its predecessor, partly to accommodate the US Army's engine of choice, GE Aviation's T901-900 turboshaft.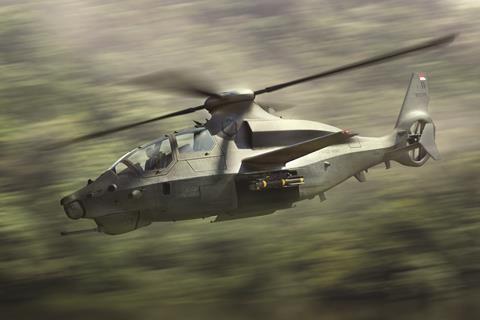 Bell's 360 Invictus concept was built around the rotor system of the Bell 525 Relentless, a super-medium commercial helicopter in development. However, the Bell 360's rotor system is smaller than that of its commercial cousin. And, it has a wing to generate additional lift, which would enable the main rotors to dedicate more power to forward motion.
The US Army wants a scouting and light attack rotorcraft to replace its Bell OH-58D Kiowa Warrior, which was retired in 2017.
Because the service envisions future wars to take place inside megacities it wants an aircraft with a maximum main rotor diameter of 12.2m (40ft) to manouevre between buildings. To keep the pace of battle at a tempo that even advanced adversaries, such as Russia and China, would struggle to match, the US Army wants FARA to have a cruise speed of at least 180kt (333km/h).
Five companies were battling to make it to phase two of the FARA competition. Those that did not advance include AVX Aircraft, which was partnered with L3Harris, Boeing and Karem Aircraft.
The US Army wants to field FARA by 2028.