The US Army plans to introduce Airbus Helicopters' in-development UH-72B Lakota to its fleet in 2021.
The service has placed an order for 17 of the new variant of the Lakota, Airbus Helicopters said on 28 August.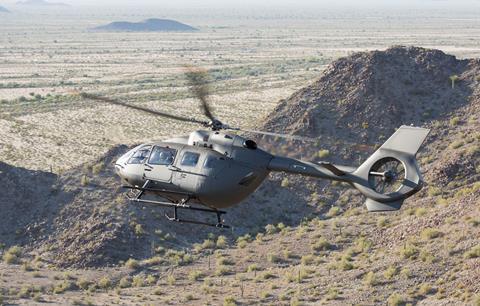 The UH-72B will join the service's fleet following delivery of the last previous-generation UH-72A Light Utility Helicopter, which is schedule to be received by the US Army in September. The first Lakota contract between the US Army and Airbus was signed in 2006.
The rotorcraft is based on the civilian H145 light helicopter, which is typically used for medical evacuation and police work. The military version is mostly "off-the-shelf", meaning few modifications have been made.
With the UH-72B, the US Army plans to incorporate the latest updates of the civilian H145, including a more-efficient Fenestron shrouded tail rotor, more-powerful engines, enhanced flight controls and the Airbus Helionix avionics suite. The UH-72A has an open tail rotor.
Airbus says it has delivered more than 460 UH-72As to the US Army, US Navy (USN) and National Guard. The US Army and US Army National Guard operatate the vast majority of these, using them mostly as utility helicopters for non-combat search and rescue operations, reconnaissance and surveillance, disaster relief, counter-drug operations, and medical evacuation missions. The USN has a handful of examples of the helicopter for training missions.
"Since we first began operations with the UH-72 Lakota some 15 years ago, this helicopter has been the workhorse of the army and National Guard, saving lives, assisting in disaster relief, training thousands of pilots, and, more importantly, helping to protect our communities and our country," says Colonel Calvin Lane, US Army project manager for utility helicopters. "Procuring the UH-72B Lakota provides tremendous value with no research and development costs for the army."
Airbus Helicopters builds the Lakota at its production facility in Columbus, Mississippi.