The US Marine Corps signed a contract to buy six more Sikorsky CH-53K King Stallion heavy-lift helicopters on 26 October.
The low-rate initial production lot four contract is worth about $550 million to Sikorsky, the US Naval Air Systems Command (NAVAIR) said on 27 October. The six helicopters are scheduled to be delivered in early 2024.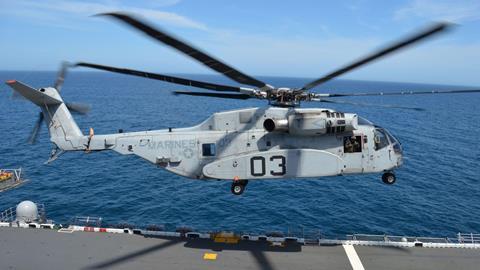 The USMC has a 200-example programme of record for the CH-53K. So far, 24 helicopters have been put on contract.
The programme anticipates finishing developmental testing for initial operational test and evaluation (IOT&E) in 2021, says NAVAIR.
"To that end, the Marine Corps is in the process of accepting the first operational test aircraft configured for initial operational capability," says the service. "It will be used for initial CH-53K operator and maintenance training in support of the CH-53K, and along with three other aircraft to be delivered early next year, will support the execution of IOT&E."
The signing of another contract with the USMC is surely welcome news for Sikorsky, after the service previewed plans in March to cut one Sikorsky CH-53E Super Stallion heavy-lift squadron, a reduction in force structure which would likely cause it to buy about one-third fewer CH-53Ks. The King Stallion is intended to replace the Super Stallion.
The CH-53K was also in competition against the Boeing CH-47 Chinook for Germany's heavy-lift helicopter programme, a plan to acquire 40 to 60 heavy lift helicopters. However, citing budget pressures, Berlin cancelled that project in September.