The US Navy (USN) has ordered five additional VH-92As from Sikorsky as part of the final production lot in the Presidential Helicopter programme of record.
The contract for the aircraft is worth $470 million and includes two cabin interior reconfiguration kits, support equipment, initial spares, and system replenishment parts, according to a US government contract notice posted on 5 February. The executive transports, known famously by their call sign "Marine One" when the US president flies aboard, are the final set of 23 helicopters ordered by the US Naval Air Systems Command (NAVAIR).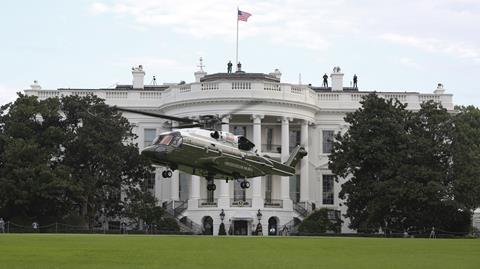 The USN is ordering the VH-92As to replace the ageing presidential fleet of 11 Sikorsky VH-3Ds and eight VH-60N presidential helicopters. The total inventory of VH-92s will be 23 helicopters: a 21-strong operational fleet and two test aircraft.
Sikorsky says it is completing final modifications on 12 of the production aircraft at its manufacturing facilities in Stratford, Connecticut and Owego, New York. Delivery of the first production example had been scheduled for April, with the final lot of helicopters coming in 2023.
"Government testing to validate system performance and prepare for initial operational test and evaluation is progressing on schedule and will support an initial operational capability planned for July 2021," says NAVAIR. "The VH-92A will enter service post [initial operational capability] at the determination of the White House Military Office."
The VH-92A is based on the commercial S-92, a twin-engined, medium-lift helicopter used for oil and gas transport, as well as search and rescue missions. The Royal Canadian Air Force operates a shipboard maritime variant of the helicopter, called the CH-148 Cyclone.