The US Navy (USN) has awarded Leonardo a $171 million firm-fixed price contract for 36 more examples of the TH-73A training helicopter.
Work on the rotorcraft will be conducted at the company's facilities in Philadelphia, Pennsylvania, and is expected to be complete by December 2022, the Department of Defense announced on 12 November.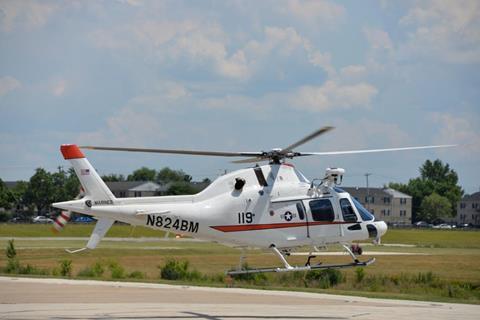 The order comes after Leonardo won the service's Advanced Helicopter Training System (also known as TH-XX) contest in January. The Italian company's US subsidiary was awarded an initial contract worth $177 million for 32 aircraft in the same month.
The USN's total programme of record is worth $648 million and calls for 130 aircraft through calendar year 2024. First deliveries are expected to start next year.
The service plans to replace its ageing fleet of Bell TH-57B/C Sea Rangers with the TH-73A, a rebranded version of the light, single-engined Leonardo TH-119. That helicopter is based on the AW109 light twin-engined utility helicopter.
The TH-73A will be used to train several hundred aviation students per year at NAS Whiting Field in Milton, Florida, the USN has said. In addition to naval aviators, the service plans to use the new helicopter fleet to train US Marine Corps and US Coast Guard pilots beyond 2050.
Leonardo's bid defeated Bell's light, single-engined 407GXi and Airbus Helicopters' light, twin-engined H135 for the USN's trainer contract.