The US Navy (USN) has picked Leonardo's light, singled-engined TH-119 for its next trainer helicopter.
The service plans to replace its aging fleet of Bell TH-57B/C Sea Rangers with 130 examples of the TH-119. The USN announced the winner of the Advanced Helicopter Training System TH-73A contest on 13 January.
TH-119 helicopters sold to the USN will be rebranded as TH-73As.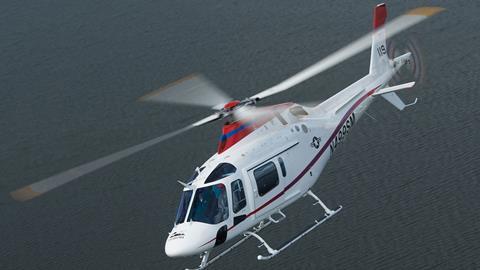 Leonardo's base year contract is $177 million for 32 aircraft, while the total contract is worth $648 million for all 130 aircraft.
The USN expects helicopter deliveries to begin in calendar year 2020 and continue through calendar year 2024.
"The new firm fixed price TH-73A contract was awarded on a best-value tradeoff basis with a base and three one-year options," says the service.
The new helicopters will be used to train several hundred aviation students per year at Naval Air Station Whiting Field in Milton, Florida, says the USN. The service plans to use the TH-73A fleet to train USN, US Marine Corps and US Coast Guard pilots beyond 2050.
The deal represents a hard-fought win for Leonardo, who defeated Bell's light, singe-engined 407GXi and Airbus Helicopters' light, twin-engined H135.
Though Leonardo is based in Italy, the TH-119 is to be built in Philadelphia, Pennsylvania. The helicopter is based on the civil AW119 helicopter, which is also manufactured in Philadelphia.
Competitor Airbus had promised to build its H135 in Columbus, Mississippi, where it manufacturers the US Army UH-72A Lakota, a helicopter based on the light, twin-engined civil EC145. It also makes the light single-engine civil H125 at that facility. Bell's 407GXi is manufactured in Mirabel, Quebec, Canada.
To win the USN contract, Leonardo had submitted its helicopter for instrument flight rules approval. The Federal Aviation Administration granted a supplemental type certification in July 2019.
The deal with the USN represents the second major helicopter contract Leonardo has secured with the US Department of Defense in the past 18 months. In September 2018, Boeing won the first portion of a $2.38 billion ballistic missile security helicopter contract with the US Air Force to deliver 84 MH-139As, aircraft based on Leonardo's medium, twin-engined civil helicopter AW139.
The TH-119 will be powered by a 1,000shp (746kW) Pratt & Whitney PT6B37A turboshaft.