The US Navy CMV-22B Osprey made its initial flight at Bell's Amarillo Assembly Center in Texas.
The Bell Boeing CMV-22's first flight comes ahead of its manufacturers' plan to deliver the tiltrotor to the Naval Air Systems Command's Air Test and Evaluation Squadron 21 in early 2020 for developmental testing, Bell and Boeing say on 21 January.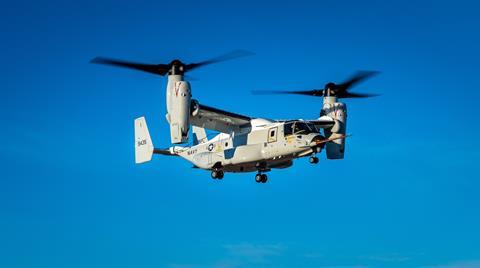 Details of the first flight profile were not released by Bell and Boeing.
The naval variant of the V-22 tiltrotor is intended to replace the Grumman C-2A Greyhound turboprop for missions including transporting personnel, mail, supplies and high-priority cargo from land to aircraft carriers at sea. It may also be used to move cargo to expeditionary bases.
In particular, the USN envisions using the CMV-22 to ferry Pratt & Whitney F135 turbines to and from aircraft carriers and amphibious assault ships. The Lockheed Martin F-35 Lightning II is powered by the F135 and the service needs the ability to replace the stealth fighter's power plant while at sea.
"With the ability to travel up to 1,150nm (2,130km), the CMV-22B will be a lifeline for our servicemen and women out at sea," says Kristin Houston, director of the Bell Boeing V-22 programme. "The quality and safety built into this aircraft will revolutionise the way the US Navy fulfills its critical carrier onboard delivery mission."
The CMV-22B is the latest variant of its type. The US Marine Corps (USMC) uses the MV-22 and the US Air Force flies the CV-22.
Compared to its USMC MV-22 cousin, the CMV-22B has a larger fuel tank, which enables a longer range; an improved fuel dump capability; a beyond-line-of-sight high frequency radio; a public address system for passengers; and a better lighting system for cargo loading, according to the USN.
The USN says it plans to buy 44 examples of the CMV-22B.
The service expects the aircraft will deploy and reach initial operational capability in 2021. Full operational capability is expected in 2022, the USN says.