Boeing recently demonstrated the S-100 Camcopter unmanned air vehicle (UAV) resupplying soldiers with small cargo packages in an unnamed US Army exercise.
The S-100 is an unmanned helicopter, typically used for civilian surveying or military reconnaissance work, that is designed and built by Schiebel Industries of Austria. Boeing established a marketing contract for the S-100 with Schiebel in 2009.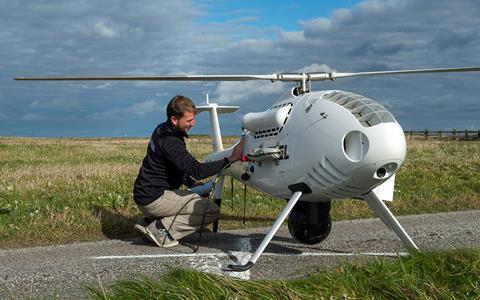 The demonstration was related to the US Army's broad Future Vertical Lift modernisation programme, Boeing says on 6 April on Twitter. A Boeing team flew the S-100 on 31 missions, delivering 726kg (1,600lb) of "simulated blood and ammunition" via a cargo winch during the military exercise. For the missions demonstrated, the cargo weight was typically about 45kg, says Boeing.
The unmanned helicopter flew the missions autonomously, says the company.
The flights took place 2 March to 12 March as part of the US Army Expeditionary Warrior Experiment, which was conducted by the service's Maneuver Battle Lab at Fort Benning, Georgia, says Boeing.
The S-100 is capable of carrying 34kg of payload for more than 6h, according to Schiebel. It can take a maximum payload of 50kg.
Boeing says it has been developing a concept for unmanned battlefield cargo delivery for several years using internally-funded projects and government-funded initiatives. The company says it is focused on "the last tactical mile".
The company is still figuring out its UAV cargo offering to the US military services.
"Boeing Global Services is looking to offer this capability as a service. For this particular demonstration, the S-100 was a good fit. At this time we are looking at several vendors, along with our own internal vertical take-off-and-landing developments," says the company. "Sales leaders are also actively engaged with the Army and other service branches, like the US Navy and Marine Corps, to shape future contract requests for this type of service."
Previously, payloads on the S-100 have typically been surveillance equipment, such as electro-optical or infrared cameras, rather than cargo.
Boeing had offered the S-100 as a maritime patrol UAV that could fly from the sterns of littoral combat ships.
For its part, Schiebel has pitched the S-100 for a variety of uses, including power line, forestry and agricultural surveys, as well as aerial cinematography.
The UAV has also been sold by Schiebel as a military intelligence, surveillance and reconnaissance platform for maritime and land roles. The unmanned aircraft has been ordered by a variety of military services, including those of the United Arab Emirates, Jordan, China, Italy and Australia."
Updated: Article changed on 7 April to add comments from Boeing.