Boeing has selected the Australian town of Toowoomba as the preferred site for its first aircraft assembly factory outside North America.
The facility will be located at the Wellcamp Aerospace and Defence Precinct near Wellcamp airport, with the intention of producing the Airpower Teaming System (ATS) 'loyal wingman' unmanned air vehicle that the company is working on with the Royal Australian Air Force (RAAF), say Boeing and the state of Queensland.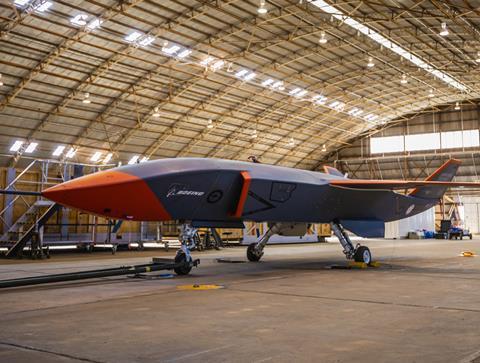 "In choosing Wellcamp airport, Boeing have taken an important step towards delivering their purpose-built final assembly facility," says Queensland premier Annastacia Palaszczuk.
"This has the potential to greatly improve our state's advanced manufacturing capability and help shape a workforce of Queenslanders with the skills to build some of the world's most cutting-edge aircraft."
Boeing Australia and the RAAF are developing six ATS test aircraft, with flight tests ongoing. The aircraft had its first flight test in February. In October 2020, Boeing had announced that the state of Queensland would be the base for ATS production.
The aircraft has yet to receive any orders, but ATS forms the basis of Boeing's bid for the US Air Force's Skyborg initiative to develop an "attritable" UAV that can support manned platforms. Skyborg aims to develop a UAV that is inexpensive to procure and, if necessary, expendable.
"[The Wellcamp decision] is the result of an arrangement our government entered into with Boeing Australia last year to support the establishment of the primary final assembly facility for the Boeing Loyal Wingman here in Queensland, subject to defence orders," says Queensland's treasurer and minister for investment Cameron Dick.
He estimates that the project could contribute up to A$1 billion ($725 million) to the Queensland economy over 10 years.
No investment value was given, nor a timeframe for the development of the facility. When fully operational, the location is expected to employ 70 in "advanced manufacturing jobs".
"We are confident in the future production outlook for this world-class, innovative aircraft," says Boeing Australia head Scott Carpendale.
"We're thinking long-term about this investment, which could assist Australia to gain future work share in other global defence and aerospace opportunities, in addition to the Loyal Wingman assembly."
Boeing has a major presence in Queensland, with some 1,700 personnel in the state. It has also stated that the ATS was designed near Brisbane, the state capital.