General Atomics Aeronautical Systems (GA-ASI) will integrate the Leonardo Seaspray radar into the MQ-9B SkyGuardian unmanned air vehicle's (UAV's) centreline radar pod, and has also integrated Lockheed Martin's Legion pod onto its Avenger platform.
Leonardo's Seaspray 7500E V2 radar will allow the MQ-9B to detect difficult surface targets, such as submarine periscopes and shipwrecked individuals in challenging sea conditions, the UAV manufacturer says.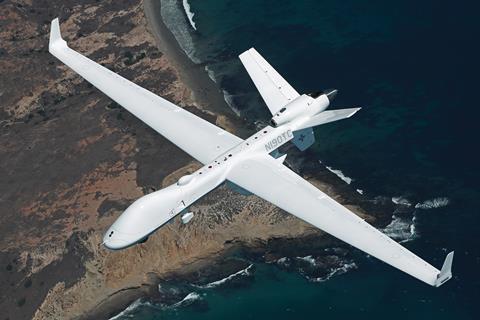 "The Seaspray greatly enhances the capabilities of the MQ-9B and builds on the already close working partnership between GA-ASI and Leonardo," the US company says. "Earlier this year GA-ASI announced the completion of initial integration work of Leonardo's Sage electronic surveillance unit onto the SeaGuardian, equipping the aircraft with the ability to gather intelligence information on maritime and land-based radar emitters over a wide area."
Leonardo says that the Seaspray 7500E V2's active electronically scanned array technology will enable SkyGuardian operators "to detect, track and classify hundreds of maritime contacts".
The UK will be one customer of the Seaspray-equipped MQ-9B, with its Royal Air Force to introduce the type in the Protector RG1 configuration. Leonardo says the sensor will also be available to its international customer base.
The Leonardo news follows General Atomics' 15 January announcement that it took less than three months to integrate the Legion pod with the Avenger, and move to a 90min captive carry test.
"Our flight demonstration revealed the quick reaction capabilities of the Avenger [remotely piloted aircraft]," says vice-president of strategic development J R Reid. "From software and hardware architecture implementation to sensor integration, the Avenger is a great platform for delivering critical capabilities."
The Legion pod is an infrared search and track sensor that allows aerial targets to be detected and tracked in radar-denied environments.