General Atomics Aeronautical Systems plans to demonstrate the maritime patrol capabilities of its MQ-9B SeaGuardian to the Japanese coast guard in mid-September 2020.
The unmanned air vehicle (UAV) manufacturer is to hold a series of validation flights in partnership with Japan-based Asia Air Survey, it said on 7 July. The Japan Maritime Self-Defence Force is to support the demonstrations from its Hachinohe base in Aomori Prefecture.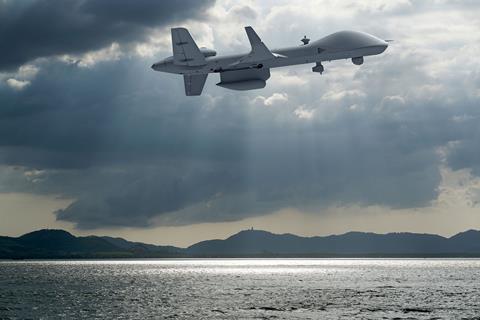 The two-month demonstration flight programme will show the wide-area maritime surveillance capabilities of the MQ-9B for missions such as disaster response, maritime law enforcement, and search and rescue, General Atomics says.
The MQ-9B SeaGuardian system will carry a multi-mode Raytheon SeaVue maritime surface-search radar with an inverse synthetic aperture radar imaging mode, an automatic identification system receiver, and a high-definition electro-optical/infrared camera.
"This sensor suite enables real-time detection and identification of surface vessels over thousands of square nautical miles," the company says.
General Atomics conducted a similar series of maritime patrol demonstrations for European nations in December 2019 around Greece.
The company is trying to show that its MQ-9, a UAV designed for watching and striking terrorists, can use its 35h of non-stop flight time to patrol the world's oceans in search of ships and submarines.