Russia has signed its first contracts for export of the reconnaissance version of its Kronstadt Group Orion-E medium-altitude, long-endurance unmanned air vehicle (UAV).
A top exporter in other areas of military aviation, Moscow has been slow to develop, adopt and export UAVs for armed intelligence, surveillance and reconnaissance (ISR).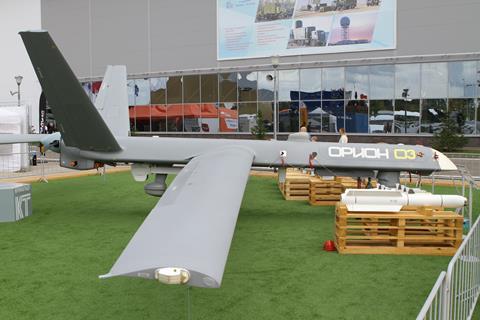 Several contracts with foreign customers for the Orion-E MALE UAV have been signed and are being executed, Alexander Mikheev, director general of Rosoboronexport, said at the MAKS 2021 air show outside of Moscow. He did not disclose who the customers are.
Initial deals are for the ISR version of the Orion-E, but the export agency is "actively negotiating" for additional examples of the armed version, he says.
"Shaping of the UCAV export configuration is still on… and soon will be finalised," Mikheev says.
The high-end of the UAV market is dominated by the US-built General Atomics Aeronautical Systems MQ-9 Reaper. Whereas, the lower end of the market is filled with unmanned aircraft made by Chinese, Israeli and Turkish companies.
Mikheev acknowledges the global market "is already well populated… and quite competitive", but says he is optimistic Russian UAVs can break through.
So far, the Russian armed forces are the only named customer of the Orion-E.
Garrett Reim contributed to this article