The Director of Operational Test and Evaluation's (DOT&E's) stealthy Fifth-Generation Aerial Target (5GAT) was lost to an in-flight mishap in October.
A safety investigation is underway to determine the cause of the prototype unmanned air vehicle mishap, the DOT&E says in its 2020 annual report to the US Congress.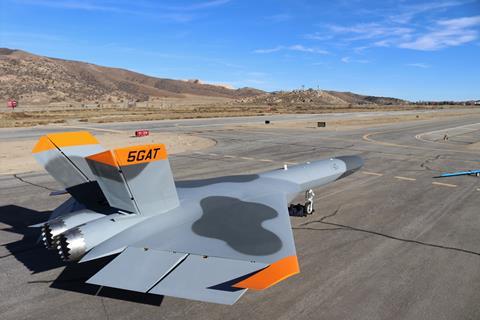 The drone is disposable and is intended to be used for target practice. It is designed to mimic the low-radar cross section of adversaries' stealth aircraft. In recent years, Russia has introduced the stealthy Sukhoi Su-57 and China the Chengdu J-20. The US Air Force wants stealthy target drones to practice firing on.
The in-flight mishap came after successful ground tests.
"The 5GAT team completed the fully government-owned design, delivered the first demonstration prototype aircraft, and successfully completed air force-led low-speed and high-speed taxi testing at Dugway Proving Grounds, Utah, in September 2020," says the Pentagon's top weapons tester.
The 5GAT is designed and built by Sierra Technical Services. The Department of Defense has requested $32.7 million in fiscal year 2021 for further development and testing of a second 5GAT prototype aircraft. Early production work for the second prototype is already underway, the DOT&E says.
"DOT&E recommends full funding for the continuation of this prototyping effort to meet the urgent need for a full-scale fifth-generation aerial target that can adequately represent current and future threat aircraft characteristics," the weapons tester says in the report.