The US Department of State has approved the possible sale of four General Atomics Aeronautical Systems MQ-9B SkyGuardian unmanned air vehicles (UAVs) to Taiwan.
The US Congress was notified of the potential sale of the intelligence, surveillance and reconnaissance (ISR) aircraft, worth an estimated $600 million, the US Defense Security Cooperation Agency (DSCA) said on 3 November. The price estimate represents all of the possible options that could be bought by Taiwan. If Taipei decides to go through with the sale, the final package price will be lower after features are chosen and negotiations conclude.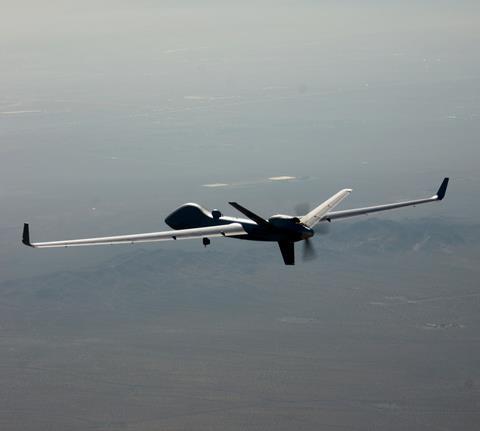 For several weeks various reports have said the approval of the UAVs to Taipei was imminent. China, which claims the island democracy as its own territory, has denounced previous arms sales by the USA and has threatened sanctions against participating companies.
Those sanctions have mostly remained symbolic. For instance, Beijing sanctioned the military side of Boeing, which does not do business in China, for the sale of 135 examples of the AGM-84H Standoff Land Attack Missile Expanded Response missiles to Taiwan. Its retaliations did not touch the commercial side of the company's business, however.
Nonetheless, the sale of the MQ-9B UAVs will be seen by the ruling Chinese Communist Party as another escalation by the Trump administration, which has also approved the sale of an additional 66 Lockheed Martin F-16 fighters to Taiwan, among other weapons. In recent years, as Beijing has grown in military and economic strength, it has made an increasing number of threats to invade Taiwan.
What's more, selling large UAVs to anyone but the closest allies of the USA is an extraordinary step because Washington previously had a policy of a "strong presumption of denial" to any other nation requesting the aircraft. That was because previously the UAVs were classified by the international Missile Technology Control Regime as cruise missiles that might be capable of delivering a weapon of mass destruction. In July, the Trump administration updated the US policy, allowing for a case-by-case approval of the sale of UAVs with maximum flight speeds less than 432kt (800km/h).
"If concluded, this would be the first time since our July 2020 update to the [UAV] export policy the US government invoked its national discretion on the implementation of the Missile Technology Control Regime's 'strong presumption of denial', says a US Department of State official, who declined to speak on the record.
US-Taiwan Business Council president Rupert Hammond-Chambers welcomed the news.
"Taiwan continues to expand its existing intelligence, surveillance and reconnaissance (ISR) infrastructure," he says. "Adding the SeaGuardian platform will provide Taiwan with substantial new maritime surveillance capabilities. This is a crucial mission for the Taiwan navy, particularly given the PLA's [People's Liberation Army's] aggressive incursions in regional waters and in the Taiwan Strait. We can expect Taiwan to further expand this capability in the coming years."
In addition to four MQ-9B UAVs, Taiwan has requested two fixed ground control stations and two mobile ground control stations. It also wants 14 embedded global positioning system/inertial navigations systems with selective availability anti-spoofing modules: 12 will be installed and two will be spares.
The ISR features requested for the UAVs include L3 Wescam MX-20 multi-spectral targeting systems, Raytheon SeaVue maritime multi-role patrol radars and Leonardo Sage 750 electronic surveillance measures systems.
Communication equipment requested includes C-band line-of-sight ground data terminals, Ku-band satellie communication transportable earth stations, BAE Systems identification friend or foe DPX-7 transponders, M6000 UHF/VHF radios, Raytheon KIV-77 Mode 5 identification friend or foe cryptographic appliques, and PYQ-10C simple key loaders.
Initial spare and repair parts, support equipment, personnel training and training equipment, as well as hard points, power and data connections for weapons integration, are also included in the potential package.
"This proposed sale will improve the recipient's capability to meet current and future threats by providing timely intelligence, surveillance and reconnaissance, target acquisition, and counter-land, counter-sea, and anti-submarine strike capabilities for its security and defence," says the DSCA. "The capability is a deterrent to regional threats and will strengthen the recipient's self-defence."
While General Atomics' UAVs are mostly intended for armed surveillance of areas where there are insurgencies or terrorist activity, over the past year military analysts have proposed using the aircraft's long flight endurance as a means to keep a watch on sophisticated US rivals, such as China or Russia. With regard to Taiwan, it is thought that the MQ-9B's 40h of flight endurance could allow it to watch China's shores for any signs of an invasion preparation.
Updated with comment from Rupert Hammond-Chambers.