The US Air Force (USAF) has announced four contenders for its Skyborg programme to create an artificial intelligence-enabled 'loyal wingman' aircraft.
Boeing, General Atomics Aeronautical Systems, Kratos Unmanned Aerial Systems and Northrop Grumman have each been awarded a $400 million indefinite delivery/indefinite quantity contract related to Skyborg Vanguard work, according to a US government contract announcement.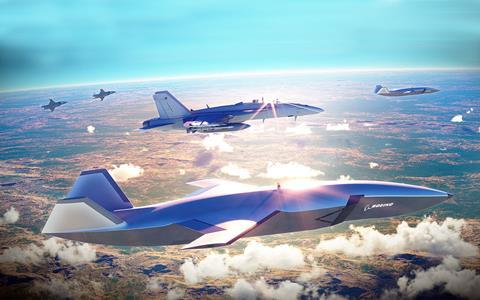 "Skyborg is an autonomous attritable aircraft capable of achieving a diverse set of missions to generate massed combat power; delivering a future air force which can deter, blunt and defeat peer adversaries," says the USAF.
"The Skyborg prototyping, experimentation and autonomy development contract will be used to deliver missionised prototypes in support of operational experimentation and develop the first Skyborg air platform with modular hardware and software payloads that will incorporate the Skyborg autonomy core system and enable manned/unmanned teaming."
The four awards were made after 18 offers were received, and follow a 15 May request for information.
The US Air Force Research Laboratory is leading development of the concept through its Low Cost Attritable Strike Demonstration programme. That effort has produced the Kratos Defense and Security Solutions XQ-58A Valkyrie, an unmanned air vehicle (UAV) that has completed several demonstration flights.
Boeing and the Royal Australian Air Force also have developed a loyal wingman called the Airpower Teaming System. That UAV's first flight is expected later this year.