Boeing and GMR Aero Technic will set up a line in Hyderabad to convert passenger aircraft into freighters.
The line will support the conversion of aircraft both for India's domestic market as well as the international market, says Boeing.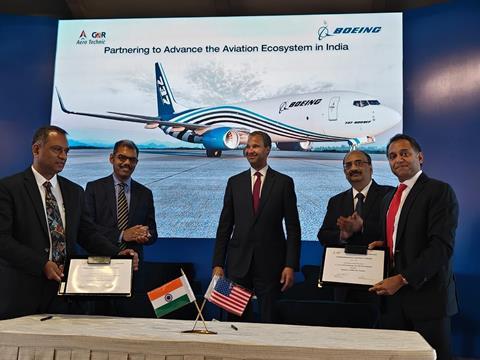 GMR Aerotechnic chief executive Ashok Gopinath says that India's MRO sector has seen rapid growth given the expansion of India's airline sector. Establishing a local freighter conversion capability is also in-line with the country's "Make in India" policy - a key priority of prime minister Narendra Modi.
Boeing does not state the type of aircraft to be converted, but an image of executive signing ceremony is back dropped by a picture of a 737-800 – a type frequently converted for cargo use.
Boeing also does not state when the line will start operating, or the level of investment.
In February, Boeing said that it expects India new and converted freighter market to grow to 80 aircraft by 2041.
Cirium fleets data indicates that there are 14 maindeck freighters in service in India.
The main freighter operator is Blue Dart Aviation with six 757-200PCFs. SpiceJet operates three 737-700BDSFs, Quikjet two 737-800BCFs, IndiGo two A321P2Fs, and Pradhaan Air Express a single A320P2F.
Boeing's move comes in the context of Air India's recent letters of intent for 220 Boeing aircraft – 190 737 Max, 70 787s and 10 777Xs – and 250 Airbus aircraft – 210 A320neo family jets and 40 A350s.