Collins Aerospace is beefing up its propeller support capabilities in Malaysia to better support the region's ATR fleet.
The effort relates to the company's 568F propeller, and will give regional operators of ATR 42/72 aircraft access to a local pool of spares, says Collins.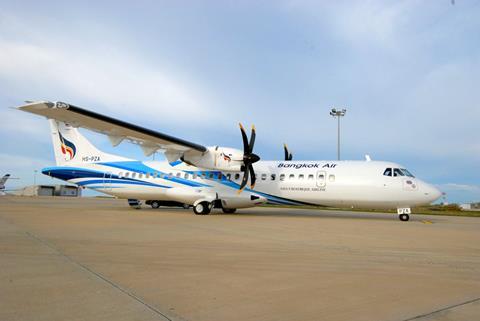 The programme will allow local operators to assess the condition of propellers. Repairs and major inspections will be performed at Collins MRO facilities in Europe.
"In the next decade, the ATR fleet is poised to enjoy significant growth in the Asia Pacific region and we'll be there to support the increased demand," says Nicolas Lérisson, aftermarket director, Propeller Systems for Collins Aerospace.
"These new, local MRO services will bring faster exchanges and reduced transportation costs to our airline customers—ultimately supporting more efficient operations."
Collins adds that the six-bladed 568F propeller is installed on over 900 aircraft operating in over 100 countries.
Cirium fleets data indicates that Southeast Asia has a total inventory of 254 ATRs.
Key operators include Wings Air (67 examples), Cebu Pacific (22), Bangkok Airways (15), Garuda Indonesia (13), FireFly (12), Malindo (12), and MASwings (10).
By country, Indonesia has 114 ATRs in service or in storage, followed by Malaysia with 35 and Myanmar with 32.
ATRs are powered by the Pratt & Whitney Canada PW100 family of turboprop engines.