EasyJet will build a hangar at Berlin airport for light base maintenance checks as part of a wider effort to insource more MRO activities.
Berlin's airport operator FBB says it has signed a lease agreement with EasyJet for the new facility and that documents for planning permission have been submitted ahead of a projected construction start later this year.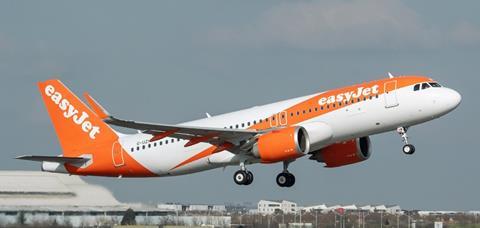 Operations at the new German facility, which will accommodate four Airbus A321s, are scheduled to begin in early 2023.
The site will be used for light base maintenance checks on EasyJet's Austrian-registered European A320-family fleet, and will enable the UK low-cost carrier to conduct "more comprehensive" technical checks and ensure a "smooth" maintenance process, FBB says.
EasyJet country manager Germany Stephan Erler describes the hangar as "the logical next step" after the airline insourced line maintenance at Berlin from Lufthansa Technik in 2020.
"The investment in our first continental European hangar underlines the strategic importance of our base for the EasyJet network and the close co-operation with Berlin Brandenburg airport's operating company," Erler states.
LHT previously completed overnight checks for EasyJet at Berlin, Milan Malpensa and, until 2020, London Gatwick.
These events tend to be more comprehensive for EasyJet than standard night-time line checks because it employs an equalised maintenance programme under which scheduled inspection tasks are packaged into a series of smaller checks to avoid multi-day hangar visits. After six years, aircraft undergo an intermediate layover check which typically takes about two weeks.
EasyJet has recently completed construction of a third bay at its Gatwick hangar, which is used for overnight checks too. That facility – opened in 2016 – was initially operated in partnership with LHT, but EasyJet chose not to extend the partnership with LHT in 2020 and took the operation under its own control.
The airline tells Cirium: "Lufthansa Technik remain an important strategic partner for us who support us in providing services at a number of maintenance locations across Europe, in line, light base and base maintenance."
The new hangar in Germany will be built in the maintenance area at Berlin Brandenburg. That area includes two existing hangars – one capable of accommodating two A330s or six single-aisles which was originally built for now-defunct carriers Air Berlin and Germania, and a smaller facility used by LHT.
The larger site is being used by Bombardier to support business aircraft, the Canadian airframer's website indicates.
FBB says EasyJet's new hangar and efforts to grow the existing line maintenance operation in Berlin represent a €20 million ($24 million) investment.
The airline and airport operator will jointly build the new site. FBB will be responsible for foundations and infrastructure access, while EasyJet will oversee the hangar's construction and maintenance installations.
Updated with comment from EasyJet