MTU foresees substantial growth for its civilian maintenance business in 2021, while commercial engine manufacturing revenue is set to remain flat.
The German engine subassembly manufacturer and maintenance provider gave it's "initial outlook for 2021", as part of a capital market day on 19 November.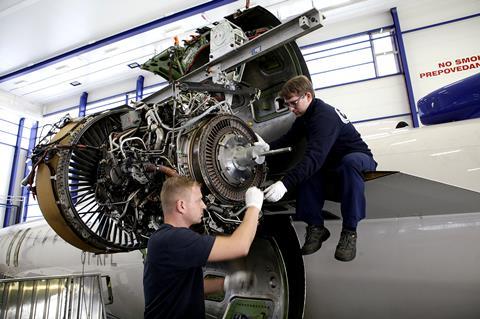 Noting the company's "strong position" for narrowbody engine MRO and a "large customer base" among freight operators, MTU predicts that its commercial engine revenue will grow "in the 20% range" in 2021, while spare part sales will be "slightly higher" than in the current year.
The company believes that it will benefit from a quicker recovery of domestic airline flights versus international services, which have been more severely affected by travel restrictions
Chief programme officer Michael Schreyogg states: "Use of modern aircraft like the [Airbus] A320neo is strong, so we will see a significant rise in maintenance of PW1100G-JM engines in the future."
MTU reiterates its commitment to expanding its overhaul joint venture with China Southern Airlines' parent in Zhuhai and to the construction of a component repair shop near Serbian capital Belgrade. Both projects began planning before the pandemic.
Meanwhile, commercial engine manufacturing activities will "make a stable contribution to revenue in 2021".
Schreyogg says: "There are signs that production will be ramped up again in the mid-term, especially production of the A320neo… We are optimally prepared for that."
The company says that its "entire value chain from product design and supplier management, through procurement strategy, quality management and cost management to automation and digitalization" has been set up with an aim to "maximize production flexibility".
Military activities will see "slight growth" in 2021.
In order to help weather the crisis, MTU has "considerably" increased liquidity reserves in 2020 and launched restructuring efforts that will result in a 10-15% capacity adjustment by the end of 2021, finance chief Peter Kameritsch says.
Chief executive Reiner Winkler states: "We see the coming years as a restart phase in which we will use our technological leadership, innovative strength and flexibility to extend our good starting position, so that we can derive above-average benefit from the growth of the sector from 2024."
The company will concentrate on "organic growth" in future, he notes.