Russian operator S7 Group's engineering division is to construct a new aircraft maintenance centre at St Petersburg capable of performing checks on both Russian-built and Western aircraft types.
S7 Technics says the centre is intended to service aircraft from the Airbus A320 and Boeing 737 families as well as the new Irkut MC-21 and Sukhoi Superjet 100.
It will be established at St Petersburg's Pulkovo airport and will offer a broad range of light and heavy checks, modifications, repairs and maintenance.
Construction will commence in 2023 and the centre, which will employ 400 personnel, will be operational by 2025.
S7 Technics chief Vladimir Perekrestov says the facility will conduct some 35-40 heavy maintenance operations – comprising C-checks and D-checks – plus around 200 lighter A-checks annually.
The centre will "strengthen our position" in the market for domestic and foreign-built aircraft maintenance in Russia, he adds. It will be the fourth technical base for the company after Moscow, Novosibirsk and Mineralnye Vody.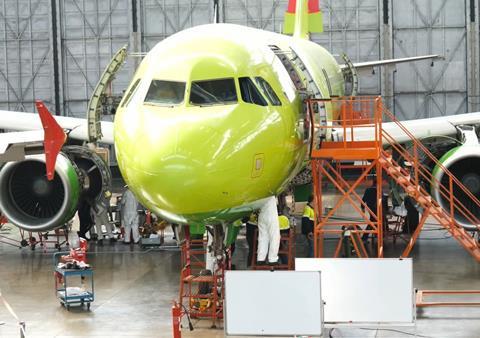 S7 Technics signed an agreement with the St Petersburg government and the airport on 3 June, during the city's economic forum event. It says it will invest Rb3 billion ($41 million) from its own resources, without the need for external funding.
"There are not enough technical centers in Russia to service aircraft," says Perekrestov. "Even during the pandemic period we saw a high demand for scheduled maintenance from Russian airlines.
"After the restoration of air traffic, we're forecasting a steady growth of customers both in Russia and in the global market."
Perekrestov says the company is looking to attract European budget airlines operating to the city, adding that the Pulkovo 'open skies' regime will "be an advantage".