Safran will establish an MRO shop in Hyderabad to support overhaul work for CFM International Leap-1A and Leap-1B engines, and make other investments including a joint venture with Hindustan Aeronautics (HAL).
The Hyderabad MRO facility will entail an investment of $150 million. It will employ 500-600 workers, and have the capacity to overhaul over 250 engines annually. It will support Leap engines in service with both local and overseas carriers.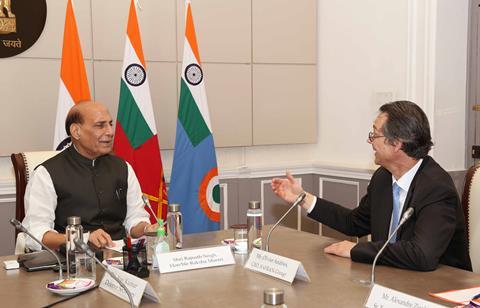 Safran's plans were revealed in a press release from the Indian government, following a meeting between Indian defence minister Rajnath Singh and Safran chief executive Olivier Andries in New Delhi.
In addition, Safran will establish a Safran Aircraft Engines facility in Hyderabad's special economic zone. The facility involves an investment of €36 million ($40 million) and will produce engine components including rotating seals.
Safran will also establish Safran Electrical & Power India, which will produce harnesses for civilian and fighter jets.
In Bengaluru, Safran will set up a joint venture with HAL: Safran HAL Aircraft engines. The joint venture will produce rigid piping for aircraft engines.
Safran's moves fall under the auspices of prime minister Narendra Modi's 'Make in India' campaign, which seeks to improve India's stature as a manufacturing location.
In addition to its work on the Leap engine series through its CFM joint venture with GE Aviation, Safran also produces the M88 engines that power New Delhi's 36 Dassault Rafale fighters. The Rafale is a contender in an Indian Air Force requirement for a further 112 fighters, and a navy requirement for 57 fighters.