Turkish Technic is planning an investment in Malaysia in partnership with local maintenance provider Sapura Technics, to address customers in Asia-Pacific.
The two MRO companies have signed a tentative agreement for the co-operation in Istanbul in presence of the Malaysian minister of international trade and industry, the nation's investment development authority MIDA, and Malaysia External Trade Development Corporation, Turkish Technic says.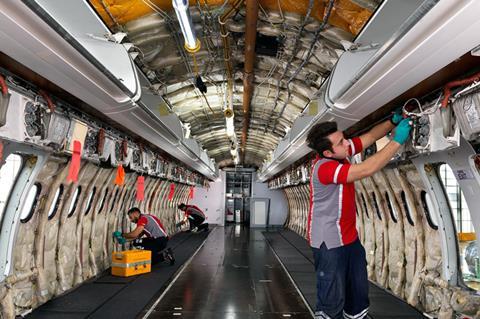 Noting airline fleet growth in Asia-Pacific and a "wide customer portfolio for the MRO market" there, Turkish Technic says its aim is to become an "active player" in the region.
"Turkish Technic aspires to expands its nearly 100 years of experience in the aircraft maintenance and repair market to this region with its investments in Malaysia, one of the most important centres of the Asia-Pacific region," the Middle Eastern MRO provider says.
Based at Senai airport outside Johor – close to Malaysia's border with Singapore – Sapura Technics specialises in line and base maintenance for Airbus A320-family jets and Boeing 737s.
The MRO provider was established in 2018 as a joint venture between property investment company Sapura Resources and Malaysian maintenance training specialist Dilog Training & Services, Sapura Technics' website indicates.
Turkish Airlines chairman Ilker Aycı states: "We aim to distinguish ourselves from the competition in a positive way by increasing our capabilities, expanding our customer portfolio, and continuing our investment and growth efforts without cutting pace.
"These investments will be of great importance for our company and our country's civil aviation," he adds.
Turkish Technic says that the planned international expansion follows the establishment of extensive maintenance facilities at its Istanbul base to serve customers in Europe and the Middle East.
In 2020, the MRO provider opened its first hangar at Istanbul's new airport, having previously operated out of the city's Ataturk airport.
Additionally, Turkish Technic operates a large MRO complex at Istanbul's Sabiha Gokcen airport. That complex opened in 2014.
The company's services span airframe, component and engine MRO.