Aegean Airlines' losses almost halved year on year in the first quarter of 2021, and the Greek carrier aims to restore 75-80% of its capacity in the third quarter.
The Star Alliance member has reported a first-quarter net loss of €44.5 million ($52.7 million), compared with an €85.4 million net loss in the same three-month period of 2020.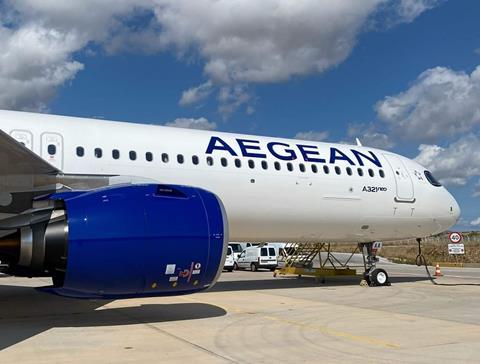 Revenue declined 70% to €44.3 million. Aegean carried 460,000 passengers in the first three months of 2021 – 78% fewer than the same period last year. It operated 58% fewer flights and its load factor dropped 28.5 percentage points to 47.5%.
"The group's flight activity stood at particularly low levels in the first quarter of 2021, due to the second wave of the pandemic and the restrictive measures which have impacted our results," states Aegean chief executive Dimitros Gerogiannis.
This trend continued until the beginning of June when leisure traffic started to show "gradual signs of recovery", adds Gerogiannis. The pace of Covid-19 vaccinations "will play a vital role in the demand trend and the results during the second half of the year".
At 31 March, Aegean's cash and cash equivalents amounted to €418 million, excluding the proceeds of the airline's recent €120 million grant from the Greek government and its €60 million share capital increase.