Air Mauritius will transfer its London flights to Gatwick from Heathrow later this year, and will boost frequencies on the route to meet strong demand.
The move will help Gatwick claw back the number of long-haul operators serving the airport, which had fallen to 11 in 2022 from 14 in pre-pandemic 2019.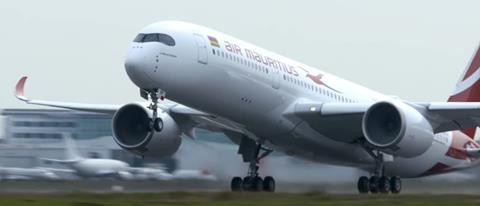 The airport said in its full-year results for the 12 months ended 31 December that passenger numbers in its long-haul market reached 44% of 2019 levels last year. Short-haul passenger numbers in the same period reached 77% of pre-Covid levels. Total passenger demand stood at 70.4% of 2019 levels, with 38.2 million passengers using the airport in 2022.
Air Mauritius says it will move its operations from Heathrow to Gatwick on 29 October. The carrier will increase frequencies on the route to a daily service from five flights a week. Air Mauritius will link Gatwick with its Indian Ocean island base using a combination of Airbus A350-900 and A330neo aircraft.
"London has always been a high-priority destination for us and as part of the commemoration of Air Mauritius' 50 years of operations to the United Kingdom in November 2023, we are proud to announce daily operations to London Gatwick as from 29 October this year," says Air Mauritius chief executive Kresimir Kucko, adding that the "strategic move" will allow the carrier to meet "increasing demand" on the route.
Gatwick offered 38 long-haul passenger routes in 2022, down from 62 in 2019. It handled four million long-haul passengers, compared with nine million in 2019 and 600,000 in 2021.
"This year we will have even more choice of airlines and destinations for travellers, whether flying for business or leisure," says Gatwick chief executive Stewart Wingate. "While we still have some way to go to reach a full recovery, we know long-term sustainable investment is critical to the future of our airport and provides a significant boost to the regional and national economy."
Gatwick has moved forward its net-zero commitment by 10 years to 2030, for emissions under its direct control. It says it will achieve this by investing more than £250 million ($306 million) in renewable energy and electric vehicles.
The airport's full-year revenue in 2022 increased to £776.6 million from £192.7 million the previous year. Revenue in 2019 stood at £853.5 million. The airport recorded a net profit of £196.5 million last year, compared with a net loss of £370.6 million in 2021.