Canadian passenger carriers Air Transat and WestJet have expanded their respective networks through codeshare agreements with smaller regional airlines.
Air Transat launched a codeshare – agreements under which airlines sell each other's flights as their own – with Porter Airlines 18 October. Porter operates a fleet of 29 De Havilland Canada Dash 8-400 turboprops out of Toronto.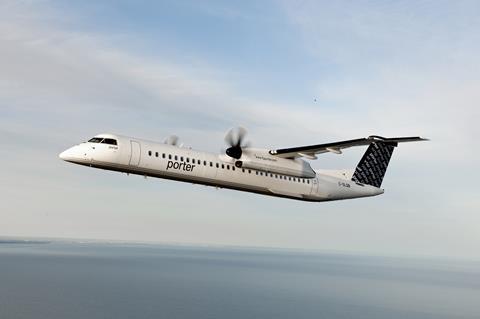 Now, Porter carries Air Transat's code on flights between Montreal and Toronto's secondary airport, Billy Bishop, and Halifax. In an "upcoming phase", Air Transat will carry Porter's code on 31 routes from Montreal – including those to Europe, the USA, Mexico and the Caribbean.
"Connecting passengers in two of our most important markets, Toronto and Halifax, with Air Transat's European and North American network is a great benefit," says Kevin Jackson, Porter's chief commercial officer. "This is just the beginning, as we intend to expand Porter's own network to create many more travel opportunities between our two airlines."
Michele Barre, Air Transat's vice-president of revenue management and pricing, calls the airlines' networks "highly complementary".
Meanwhile, WestJet on 18 October launched a "reciprocal interline relationship" with Pacific Coastal Airlines, allowing passengers to "purchase a single ticket from either airline for travel involving connecting flights between their networks", the airlines say.
Pacific Coastal already operates some flights for WestJet under a codeshare agreement, though WestJet is its first interline partner. Interline deals allow airlines to sell seats on each other's flights – but exclude the additional step of placing their codes on those flights. Privately owned Pacific Coastal flies to 17 destinations throughout British Columbia from its base at Vancouver International airport.
WestJet, having recently consolidated its fleet of Boeing 787-9s in Calgary, has been making other alliances. Beginning 7 October, the airline added its code to Korean Air flights from Toronto and Vancouver to Seoul, marking its "first reciprocal codeshare with an Asian partner".