Indian start-up Akasa Air is to 'aggressively scale-up" its operations in the coming weeks, as it reaches over 250 weekly flights by 10 October, about two months since it began operations.
In a statement issued 16 September, the airline also announced it was to start operations to Delhi, its sixth point in its domestic network.
It will launch daily flights linking the Indian capital with Bengaluru, while Ahmedabad will see twice-daily flights.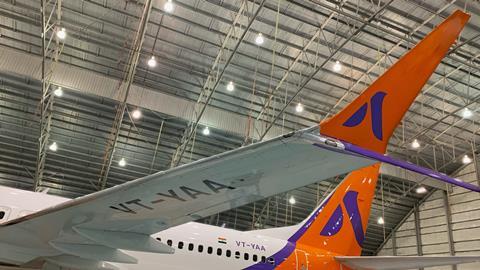 Akasa adds that it will be taking delivery of its fifth Boeing 737 Max 8 imminently, and will continue to add new 737s every 15 days. This will take its fleet size to 18 jets by end-March 2023.
"Akasa Air has been aggressively scaling up its operations and will have crossed 250 flights per week by October 10… along a total of nine routes," the carrier states.
Akasa began operations on 7 August, with an initial network of four points. The airline took delivery of its first Boeing 737 Max 8 in Seattle in June.
It is the first of 72 737 Max jets that Akasa ordered at the 2021 Dubai air show. That order comprises a mix of Max 8s with 189 seats and high-capacity Max 8-200s with 197 seats.