Alaska Airlines will add Embraer 175 regional jets to its fleet flying within the state of Alaska, bringing in the smaller-gauge aircraft on routes that would not be profitable using larger jets.
The Brazilian-made aircraft, operated by Alaska's regional partner Horizon Air, will begin service in Alaska in October 2020, the Seattle-based airline says on 22 June. The airline says the smaller jet will allow it to serve more destinations more often, and open further opportunities.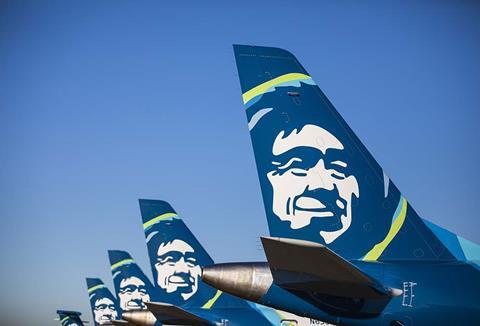 "This jet gives us the flexibility to increase daily frequency between Anchorage and Fairbanks up to seven times a day, and to provide year-round service to King Salmon and Dillingham," Alaska's regional vice-president Marilyn Romano says. "In time, the new mix of aircraft will unlock other markets in the state for future service."
According to Cirium fleets data, these routes had previously been flown with larger Boeing 737s, but that has become a costly proposition after the coronavirus pandemic and subsequent travel restrictions caused a sharp decline in passenger demand since the beginning of the year, motivating the airline to swap out the 737s for smaller jets. The change also allows Alaska to add frequencies in the void created on some routes when regional carrier Ravn Air ceased operations on 5 April.
The E175s are configured with 12 first-class seats, 12 premium-economy seats and 52 economy seats, Alaska says.
Air travel is the most reliable and regular form of transportation for both passengers and cargo to remote communities across the state, which is the USA's largest by area and closest to the Arctic Circle. Ground- and sea-based transportation networks are often only able to operate at certain times of the year or in specific weather conditions.
In May, Alaska Air Group – the parent company of Alaska Airlines and Horizon Air - reported a $321 million operating loss during the first quarter, down from a $25 million operating profit in the same period a year earlier. The airline has said it hopes to reduce monthly cash burn to $200 million by June, down from $400 million in March.
It collected $992 million in payroll support as part of the CARES Act, passed by the US Congress in March, designed to support airlines and prevent redundancies as they manage through the global crisis.