American Airlines plans to terminate service to three small markets in the USA, citing a lack of pilots and low demand for the routes.
Regional operations in Columbus (Georgia), Del Rio (Texas) and Long Beach (California) will all be eliminated early in 2023, American told FlightGlobal on 6 January.
Service to Long Beach will end of 28 February, while flights to Columbus and Del Rio will stop on 3 April.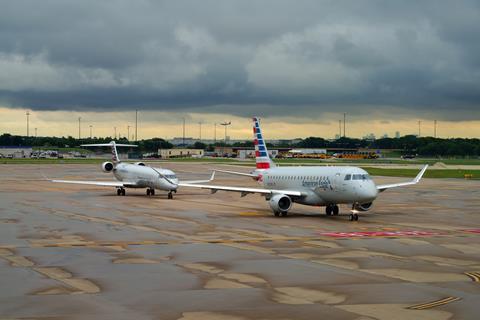 "In response to the regional pilot shortage affecting the airline industry and soft demand, American Airlines has made the difficult decision to end service in Columbus, Georgia, Del Rio, Texas and Long Beach, California this spring," the airline says. "We'll pro-actively reach out to customers scheduled to travel to offer alternate arrangements."
The US airline industry is short some 8,000 pilots, diminishing regional air service throughout the country, according to industry trade group Regional Airline Association (RAA). The pilot shortage has resulted in less or lost air service at 76% of US airports since October 2019, with many small communities becoming entirely disconnected from airline hubs.
Regional carriers Envoy Air and SkyWest Airlines currently operate flights on behalf of American at Del Rio International airport, according to Cirium data. American contracts with Piedmont Airlines, PSA Airlines and SkyWest for operations in Columbus.
Long Beach, on the other hand, is served by Mesa Airlines and SkyWest. Mesa is set to stop flying for American on 3 April, having severed its contract in favour of a five-year capacity purchase agreement with United Airlines. American did not say if the airline's fractured relationship with Mesa factored into its decision to end service in Long Beach.