Austrian Airlines is planning to focus on leisure destinations in 2022, as it acknowledges likely strong competition from low-cost cost carriers at Vienna airport.
Announcing its summer 2022 schedule on 9 November, the Lufthansa Group airline says "tourist destinations will… dominate the 2022 summer flight schedule", with Greece, southern Italy and the Balearic Islands set to receive significant capacity.
Among its specific route announcements, the Star Alliance carrier will operate three daily flights to Palma de Mallorca and daily services to Sicily.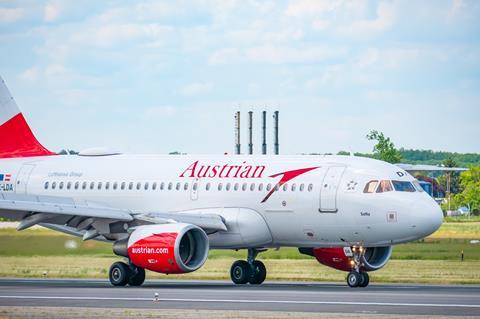 Noting that it will deploy 10 more aircraft on European routes than it did in summer 2021, Austrian describes its plans as a "decisive stand against the expected increase in competition from low-cost airlines".
Austrian faces competition from the likes of Ryanair at Vienna, with the Irish group announcing in late September its "largest ever" flying programme from the capital city, featuring a total of 90 routes served by 19 aircraft based at the airport.
Wizz Air – which has attempted to increase its footprint across Europe during the Covid-19 crisis – also has a base at Vienna, ranking third behind Austrian and Ryanair for capacity in November 2021, according to Cirium schedules data.
Austrian's stablemate Eurowings also has a base at Vienna, while EasyJet's post-Brexit European operation is registered in Austria, but its prescence at Vienna is relatively small.
Calling itself a "premium carrier", Austrian says it will fly to "almost" 110 destinations in summer 2022, with a weekly frequency of "around 1,200 flights".
Pre-pandemic, Vienna airport saw an influx of budget operators in summer 2018, prompting Wizz Air chief executive Jozsef Varadi to characterise the market as "a bit of a bloodbath"