US discounter Breeze Airways plans to add two destinations to its network – Cincinnati and Vero Beach, Florida – in February as part of a broader cross-country expansion.
The moves will see Breeze, launched in 2021 by airline notable David Neeleman, grow its network to include 33 cities in 19 states, the airline says on 19 October.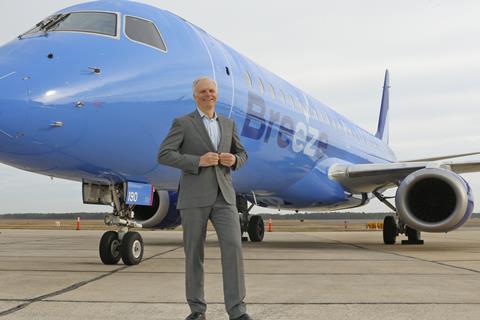 Starting 2 February, Breeze will begin flying from Vera Beach on Florida's east coast to Hartford, followed on 3 February with the start of flights from Vero Beach to Westchester County airport near New York City.
The carrier will begin operations at Cincinnati on 8 February with flights to both San Francisco and Charleston (South Carolina), it says.
As part of the expansion, Breeze will launch several other new routes, including those from Akron-Canton (Ohio), Bentonville-Fayetteville (Arkansas), Huntsville (Alabama), Orlando, Phoenix, Richmond, San Bernardino (California) and Tulsa (Oklahoma).
The airline's fleet includes Embraer E-Jets and Airbus A220s.