British Airways' London Gatwick-based BA Euroflyer operation is adding four new routes this year on which it will compete with EasyJet, including flights to Montpellier in France.
BA Euroflyer will this summer add year-round flights to Corfu and Myknonos from Gatwick in addition to the Montpellier service, as well as adding summer operations to its existing winter route to Salzburg. From December it will begin an Innsbruck service.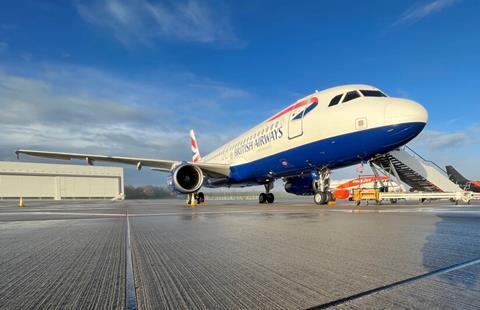 BA already serves all the destinations from Heathrow apart from Montpellier, to which it does not currently operate. EasyJet is the sole operator on Gatwick-Montpellier, a route it has operated since taking it on after acquiring GB Airways in 2008. Cirium schedules data shows EasyJet already operates on all the new services BA Euroflyer announced today.
The expansion comes after BA resumed short-haul flying from Gatwick last summer, having paused operations from the south London airport when Covid hit.
It only returned after reaching terms with staff on establishing lower-cost unit BA Euroflyer to operate the flights. Services were initially operated under BA's air operator certificate, but it has been transferring aircraft to the new unit after BA Euroflyer secured its own AOC in December.
Tom Stoddart, acting chief executive of BA Euroflyer, says: "It is exciting to see our short-haul schedule at Gatwick grow. These additional routes are to a broad range of destinations that will suit all manner of travellers from beach lovers and skiers to explorers and adventurers."
BA Euroflyer operates Airbus A320-family jets in a two-class configuration and plans have 19 narrowbodies in its fleet for next summer.