Canadian low-cost start-up carrier Lynx Air has added Victoria to its network as it prepares to launch revenue service in six weeks.
The Calgary-based airline says on 15 February it will add flights to Victoria on 12 May, initially twice weekly and expanding to thrice-weekly in June. In addition, Lynx will begin two flights weekly between Winnipeg and Toronto from early May.
That makes six destinations for the new carrier – Victoria, Calgary, Winnipeg, Vancouver, Toronto and Kelowna. Lynx began selling tickets for an early April launch.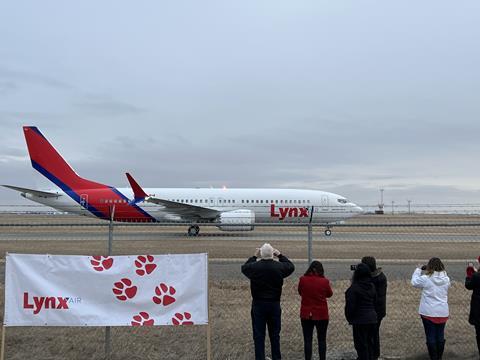 "We are excited to be adding beautiful Victoria to our network and to be offering more ultra-affordable travel options for travellers wanting to fly between Toronto and Winnipeg," says Lynx chief executive Merren McArthur. "We will continue to ramp up our schedule in the lead up to summer… as we continue our mission to make air travel more affordable for all Canadians."
Lynx is one of two start-up airline projects due to launch in the Canadian low-cost market this year. The carrier aims to begin revenue service with three Boeing 737 Max 8s and has plans to grow to 46 jets in seven years
Canada Jetlines, based in Toronto, has said it aims for a second-quarter launch but has not begun selling tickets. It has taken delivery of one aircraft, a 12-year-old Airbus A320. Executives have said they hope to acquire two more A320s by July, three more by June 2023 and five more by June 2024.
The two companies enter a hotly-contested discount market as Canada's two existing low-cost carriers add aircraft and destinations.
Last week, WestJet subsidiary Swoop said it will add six Boeing 737 Max 8s this year. Canada's other low-cost airline, Flair Airlines, said in December it aims to double the size of its fleet over the next two years with the addition of 14 737 Max 8 jets.