The chief executive of Ryanair's mainline operation has warned the Irish government that the carrier is able to place its aircraft elsewhere in Europe, as he lamented the country's current restrictions on international travel.
Noting that Ireland does not have a state-owned flag carrier, Eddie Wilson states on Ryanair's new podcast that should the airline and IAG-owned Aer Lingus move aircraft to elsewhere in Europe amid those restrictions, "there is nobody else coming" to serve the Irish market.
He also highlights a similar issue in the UK, where airlines have been calling for urgent government help to survive the pandemic.
"It will just go somewhere else," he says of airline connectivity if less-draconian measures are in place in other European countries.
Wilson notes that this outcome could be exacerbated by a structural reduction in the number of aircraft in service as the industry emerges from the pandemic.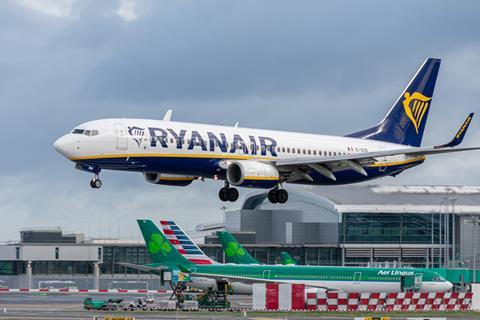 Ryanair's largest bases are at London Stansted and Dublin, but its has dozens of smaller bases across Europe.
Wilson also contrasts the situation in Ireland and the UK with markets such as France, Germany, Italy and the Netherlands, where governments have taken a renewed interest in supporting their respective flag carriers after substantial bailouts, guaranteeing a level of connectivity will be retained.
His comments followed the Irish government's 12 October announcement that there were no longer any countries on its 'Green List' of destinations from which travellers to Ireland are not required to quarantine.
Meanwhile, of Ryanair's recovery from the crisis, Wilson says that he "wouldn't take anything for granted in this because we can't see the end of it just yet".
He notes, however, that "if you prepare well and better than your competitors, then you're going to be in a better position".
Citing Ryanair's "strong balance sheet", 70%-owned fleet and flexible arrangement with staff, he states: "If you've got the money, you've got the aircraft, you've got the people, you've got the space at the airports, then you are in a much better position than those [airlines] that are scrambling around, that are running out of cash, have to raise their money, looking for short-term deals all the time, selling their aircraft, firing their people."