Cebu Pacific will operate at 88% pre-pandemic capacity this month, amid a network-wide boost that sees its domestic capacity already surpassing pre-pandemic levels.
The low-cost operator from the Philippines says in a 6 July statement that it now is operating about 340 flights a day to 34 domestic and 18 international points in its network.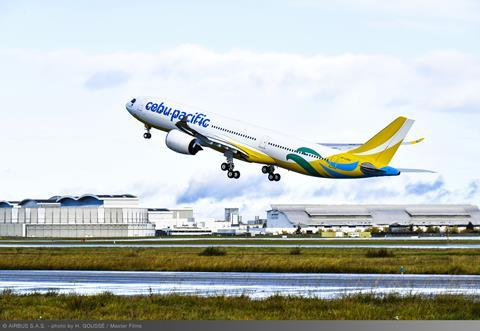 Domestic capacity is 9% higher than pre-Covid-19 levels as at July, three months after the carrier restored full domestic capacity.
Cebu Pacific chief commercial officer Xander Lao says: "We are pleased to see more people confidently flying again, not just within the Philippines but even abroad. This positive development has not only allowed us to carry more passengers, but also boosted our cargo service."
The airline has in recent months resumed - and ramped up - flights in its international network, including to Brunei, Singapore and Dubai. On 3 July, it resumed flying to Sydney, with thrice weekly flights from Manila.
Cebu Pacific is the latest in a string of Asia-Pacific carriers to ramp up capacity as travel demand swells and border restrictions ease. Singapore Airlines Group on 5 July said it will hit about 82% of pre-pandemic capacity by year-end, as it increases flights to India and Japan.