Changi airport will gradually allow transit passengers from 2 June, after Singapore banned all short-term visitors from entering or transiting, effective 23 March 23:59.
"This is part of Singapore's strategy to gradually reopen air transport to meet the needs of our economy and our people, whilst ensuring sufficient safeguards for safe travel," the Civil Aviation Authority of Singapore (CAAS) said on 20 May.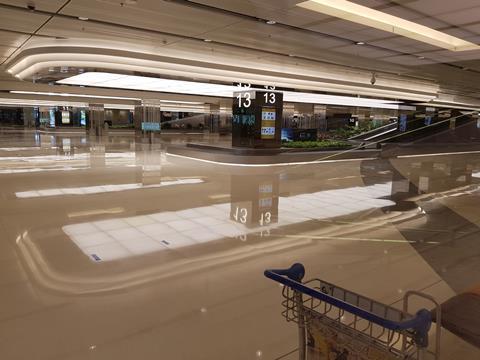 CAAS says airlines must submit proposals for transfer lanes, which the regulator will evaluate based on aviation safety, public health considerations, as well as the health of passengers and air crew.
Stringent measures will be in place to separate transit passengers from other passengers at Changi, and they are to remain in designated facilities in the transit areas.
Airport staff will be required to wear personal protective equipment when interacting with passengers. Existing precautionary measures, such as social distancing and temperature checks for passengers and staff, will remain in place.
Currently, only foreign passengers on repatriation flights arranged by their governments may transit through Singapore. CAAS says the latest move will allow passengers to transit through the city state more easily.
Cirium schedules data show that from 2017 to 2019, flights to Singapore accounted for more than 10% of air traffic into Southeast Asia and around 13% of seat capacity.
The global Covid-19 pandemic has led Changi to close Terminal 2 (T2) for 18 months from 1 May while T4 has been shut indefinitely from 16 May. Operator Changi Airport Group says this will save on running costs and it aims to restart operations quickly when airlines confirm the resumption of flights.