Middle Eastern carriers Emirates and Gulf Air are set to launch their codeshare next month after formalising thee agreement during the Bahrain air show today.
The two carriers first indicated their intent to codeshare after signing a pact on a co-operation framework at last November's Dubai air show.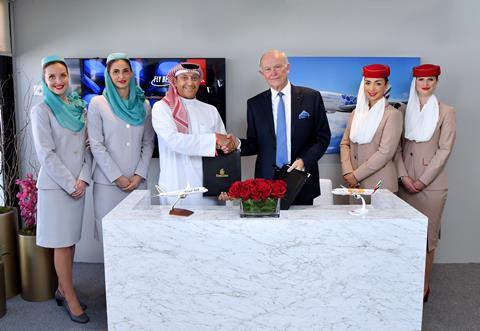 Gulf Air chief executive Capt Waleed Al Alawi says: "Our relationship with Emirates Airline has always been strong and today we are reaching a higher level of collaboration with many more opportunities in the horizon between the two carriers. This partnership will empower both of us to offer a more elevated experience to passengers and widen their travel options."
Under the codeshare Gulf Air will add its code to a number of Emirates flights to points including Budapest, Prague, Warsaw, Algeria, Tunis, Bali, Hanoi, Ho Chi Minh City, Taipei and Sao Paulo.
Tim Clark, Emirates chief executive, adds: "We are pleased to partner with Gulf Air to offer their customers greater access and strong connection opportunities to unique destinations on our network, complemented by Emirates' signature in-flight service and hospitality throughout their journey from Dubai.
"We look forward to working together and achieving more with Gulf Air in the near future, and further strengthening our relationship."