European low-cost carrier Norwegian carried 940,000 passengers at a load factor of 80.3% in March, continuing the trend among budget operators in the region of loads stabilising at higher levels following the Omicron-fuelled dip at the turn of the year.
Norwegian's passenger numbers climbed almost a third over February figures, while its load factor was only slightly below the 81% it recorded in February. Load factor had fallen to 70% in January.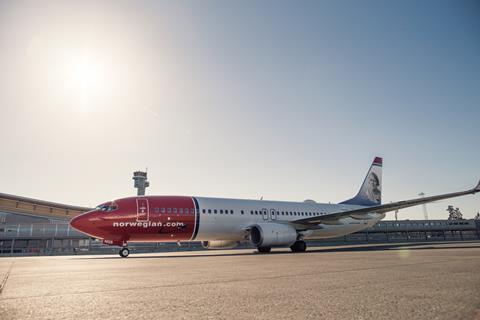 The chief executive of Norwegian, Geir Karlsen, says: "We are particularly pleased that the load factor has remained above 80% despite the introduction of significantly more capacity in March. Booking figures have improved throughout recent weeks and we are pleased to see this continued upward trend in the market. We are seeing a busy Easter travel period with many travellers and several full flights."
Norwegian has only recorded a higher load factor in one month, the 82.7% recorded in October last year, since the pandemic began.
The improved traffic performance comes ahead of an expansion this summer under which Norwegian, having cut back capacity heavily during the crisis, plans to increase its operational fleet from 48 to 70 aircraft.
Low-cost rivals Ryanair and Wizz Air had earlier also disclosed strong load factors for March as demand strengthened with the easing of many Omicron-related travel restrictions in Europe.
Ryanair carried 11.2 million passengers at a load factor of 87% in March. That marked its highest load factor since the pandemic began, while it has only flown more passengers in a month once over the same period.
Wizz recorded load factors of 86.2% in March in flying 2.5 million passengers. While that marked a fall on the 91% load factor it had in February, it was still above the load factor it had for any month last year.
Load factors for both Ryanair and Wizz had fallen to 79% in January.