Finnair has added Tokyo Haneda to its schedules for summer 2022, as it focuses on serving Japan amid uncertainties over the reopening of China to non-essential travel.
Subject to travel restrictions, that will bring to six the number of Japanese airports served by the Oneworld carrier – one more than it flew to pre-pandemic. Alongside the Haneda service, Finnair will also fly to Tokyo Narita, Osaka, Nagoya, Fukuoka and Sapporo.
"Before the pandemic, Japan was our single largest market outside our home market Finland," notes Finnair chief commercial officer Ole Orver.
The Helsinki-based carrier will also operate new services to Busan in South Korea and Dallas in the USA during the summer season, it says on 9 November.
The summer schedule largely reflects Finnair's continued strategic focus on connecting Europe to "key Asian megacities" as the airline industry emerges from the pandemic, despite the absence of connectivity with China.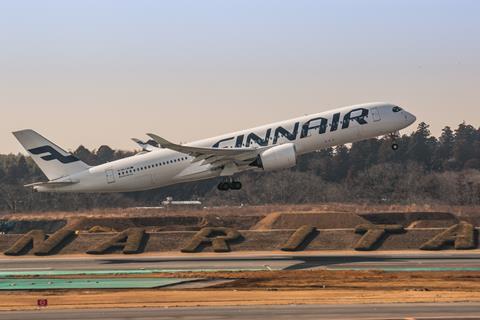 In July 2019, the airline operated around 150 return flights to Japan, Cirium schedules data shows, accounting for about 17% of Finnair's overall available seat kilometres (ASKs) for the month.
Cirium data also shows that China – to and from which non-essential travel is restricted for the foreseeable future – was a big market for the airline.
In July 2019, Finnair's services to mainland China accounted for 124 return flights, or around 13% of its overall ASKs for the month. When 31 return flights to Hong Kong are included, that proportion rises to around 20%.
Finnair's website shows virtually no mainland China flights are currently available to book in summer 2022, aside from a few Shanghai services.
Pre-pandemic in summer 2019, the airline also served Beijing, Chongqing, Guangzhou, Nanjing and Xi'an.
When flights to Bangkok, Delhi, Seoul and Singapore are included, Asia services accounted for just over 50% of Finnair's ASKs in July 2019.
During that summer, the USA accounted for around 10% of Finnair's ASKs – made up of services to Chicago, Los Angeles, New York and San Francisco – with intra-European travel accounting for most of the remaining capacity.