Frankfurt airport operator Fraport expects a group net profit for the full year as it sees passengers at the German hub reaching up to 65% of pre-crisis levels in 2022 and "dynamic" growth across its wider airport portfolio.
Fraport today reported a 75% improvement in operating profit, to €70.7 million ($74.5 million), for the first quarter, achieved on a 40% jump in group revenues to €540 million.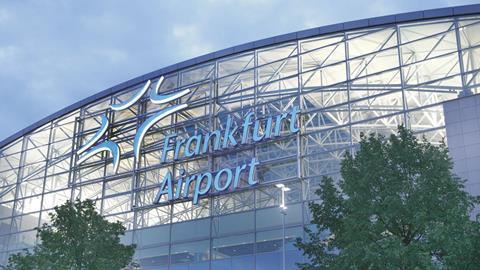 That reflects the improved demand picture across most of its airports, even allowing for the Omicron disruption at the start of the year, compared with the same quarter of 2021. Passenger numbers more than doubled at Frankfurt airport, to 7.3 million, while this was also the case across the majority of Fraport's non-German airport interests.
Fraport chief executive Stefan Schulte says: "With passenger figures rising at our airports across the group, the operating result improved significantly in the first quarter of 2022.
"For our home-base Frankfurt airport, we remain optimistic because of the positive booking figures for the coming summer travel season," he says.
It is projecting passenger numbers of between 39 and 46 million for the year at Frankfurt – which would represent between 55% and 65% of 2019 levels.
Fraport expects "even stronger dynamic growth" across its other majority-owned airports within the group, including facilities in Brazil, Greece and Turkey.
As a result of the strong growth, it expects group revenues to reach €3 billion in 2022; an EBITDA in the region of €760 million to €880 millon; and a net profit of between €50 million and €150 million.
Schulte does though flag the impact on its business of the war in Ukraine. "One of the effects of this war are increasing prices, and we also are feeling the rise of inflation," he says. "Despite this, however, we continue to expect Fraport's full-year business performance to be clearly positive," he says, noting the group has left its guidance unchanged.
A further challenge of the Russian invasion of Ukraine is the group's investment in St Petersburg airport, in which it holds a 25% stake. One-off costs related to this, including a negative value adjustment of €48 million on a loan receivable from Thalita Trading, resulted in a widening of the group's net loss during the first quarter to €118 million.
Fraport, which continues to condemn Russia for its action in Ukraine, suspended its Russian business when the war began and stresses it derives no profit or benefit from the operation.
Following a fresh supervisory board meeting to analyse the situation, Hessian finance minister and Fraport board chairman Michael Boddenberg, says it continues to evaluate developments
"The situation is clear, if not satisfactory: Fraport currently cannot do anything more than suspend this investment. If there is solid evidence that Pulkovo airport is also being used for the war against Ukraine, we have a new situation. This could also apply to future sanctions being imposed," he says.
"Therefore, we are assessing the situation day by day. We will continue to act consistently for Fraport, our state and the shareholders. It is also clear what is not possible: acting without legal recourse, based on pure wishful thinking, or even leaving assets to the aggressor."