The popular Hawaiian tourist destination Kauai has opted out of the state's pre-travel coronavirus testing programme and re-imposed a mandatory quarantine for all inbound passengers, once again disrupting Hawaiian Airlines' return to normal service.
Beginning on 2 December, travellers to the island will again be required to enter a 14-day quarantine, with no option to bypass it by bringing evidence of a pre-departure negative test.
The mayor of the island, which is located 104nm (193km) northwest of the capital Honolulu, says on 30 November that the government is imposing the measure to stop community spread of the highly-contagious disease and ease pressure on the island's limited local hospital system.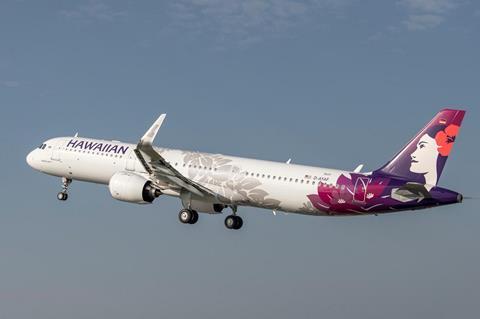 The state's governor approved an emergency rule which allows for a "a temporary moratorium of the Safe Travels programme and return to a mandatory 14-day quarantine", the county of Kauai writes on its website.
The rule takes effect at 00:01 local time on 2 December and applies "to all incoming travellers, including mainland, inter-island residents and visitors".
Kauai's case count and positivity rate are currently among the lowest of the Hawaiian Islands.
Honolulu-based Hawaiian Airlines, which operates an average of 12 daily round-trip flights to Kauai's main metropolitan centre Lihue, says it will once again cut service to the island.
"As a result of Kauai's exit from the pre-arrival testing programme, we will be reducing our schedule between Honolulu and Līhue to an average of five daily roundtrip flights," the airline says on 1 December.
Hawaiian will also cancel flights from Kauai to the neighbouring islands of Maui and Hawaii (known as the Big island) through 5 January. Connections through Honolulu, on Oahu, will still be available, the carrier says.
In addition, direct flights from Kauai to Los Angeles and Oakland on the US mainland will be discontinued from mid-December through 5 January, the airline adds.
On 15 October, Hawaii relaxed its quarantine requirement for inbound travellers, pending a negative test less than 72h prior to departure. At the time, Hawaiian said it would be restarting numerous routes to the US mainland as well as international destinations, for example, to Japan.
Earlier this month, Hawaiian Airlines said frequent fliers would be able to redeem 14,000 air miles to pay for a mail-in coronavirus test that would allow them to bypass the mandatory quarantine.
According to the Hawaii Tourism Authority, tourism is the largest single source of private capital for Hawaii's economy, accounting for more than 20%. In 2019, the islands saw almost 10.5 million visitors, most of whom came from the United States and Japan.