London Heathrow Airport chief executive John Holland-Kaye believes introducing common rules around biosecurity standards at airports will be key to restoring confidence in and fuelling the recovery of air travel.
Holland-Kaye had been due to speak at the UK's Aviation Club earlier this month, prior to national lockdown restrictions. But in a wide-ranging message to members, the boss of the UK's biggest airport argues that the introduction of agreed common standards will be key to restoring confidence in international air travel.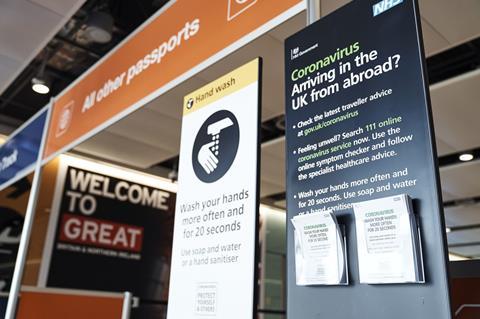 "Whilst we are consumed by this crisis, it is important that we think about how we can accelerate the recovery, and the critical issue will be the reopening of borders to international travellers, without the need for quarantine," he says.
"The crisis came on so rapidly that each country set its own health screening standards, with little coordination. Rightly or wrongly, those that require temperature checks, are perceived as being safer than others, such as the UK.
"As we come out of this crisis, each country will be cautious about reopening their borders to avoid the risk of reinfection. Until there is a cure or a vaccination, it is likely that travel between countries will only happen if each considers the other to be low risk, and to have similar high standards. So the aviation industry needs a common biosecurity standard for air travel, just as there is for airport security," he says.
He argues the UK, as an island nation, needs to be at the forefront of these efforts. "Unless we can make it safe for people to visit Britain, the UK economy will be held back. Let's work together with the international aviation sector and governments to define and agree a common biosecurity standard."
Amid concerns raised about the lack of temperature testing at Heathrow, Holland-Kaye yesterday wrote to the UK's public health chief calling on the body to publish its findings that had concluded temperature checks are ineffective. This he said would help reassure the public that measures at airports are "scientifically appropriate" and would help in establishing common international measures on future screening.
Much of the talk around how air travel may be restored has included debate around airlines taking steps such as leaving the middle seat of aircraft empty. In his message to the Aviation Club, Holland-Kaye argues this would just raise the cost of travel for little safety gain, while increasing a passenger's carbon footprint.
"Maybe it is better that, as with airport security, the test for whether someone is safe to fly should take place at the entrance to the airport or at airport security, so that we can minimise the need for social distancing on the plane or at the gate," he suggests.
"If there is a common international standard, we will know that any arriving passenger will be low risk and we can minimise the need social distancing in immigration or baggage reclaim also.
"We have made good progress on automating the passenger journey, but the final steps have been held up by bureaucracy. Now is the time to push ahead so that we minimise contact between aviation workers and passengers in check in, bag drop, security, boarding and immigration."