London Heathrow will be forced to cut passenger charges next year following a final decision from the UK Civil Aviation Authority on price caps for the five-year period ending December 2026.
The CAA's decision, published on 8 March, has drawn criticism from Heathrow for setting the charges too low, and from Virgin Atlantic for not going far enough with the cuts.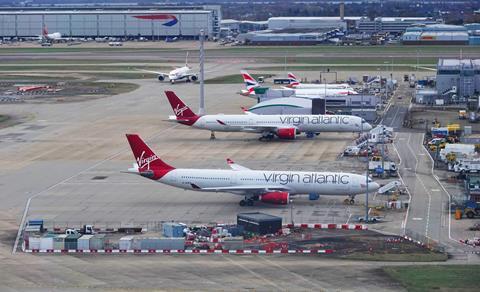 Charges for 2023 will remain fixed at the £31.57 ($37.37) per passenger interim cap issued by the CAA earlier this year. The average maximum price per passenger will then fall by about 20% to £25.43 in 2024, says the regulator, and will remain "broadly flat at that level" until the end of 2026.
The average per-passenger charge over the five years to December 2026 will be £27.49, down from the £28.39 proposed by the CAA last summer. The regulator says the reduced charges from 2024 recognise that passenger volumes are expected to return to pre-pandemic levels.
The charges "should benefit passengers in terms of lower costs, while also allowing Heathrow Airport Limited to continue investing in the airport for the benefit of consumers", says the CAA. This includes a £3.6 billion investment programme which, among other things, will bring new security scanners and a new baggage system to Terminal 2.
But Heathrow disagrees with the cap, arguing that the CAA "has chosen to cut airport charges to their lowest real terms level in a decade at a time when airlines are making massive profits and Heathrow remains loss-making because of fewer passengers and higher financing costs". The airport believes the CAA's decision "makes no sense and will do nothing for consumers at a time when the CAA should be incentivising investment to rebuild service".
Heathrow and its main airlines have very different opinions on the issue of charges. The airport had proposed an average charge over the five years to end-2026 of £40, while airlines were seeking an average cap of around £18.50.
In response to the CAA's final decision, Virgin Atlantic chief executive Shai Weiss blasts the regulator for not having "gone far enough to push back on a monopolistic Heathrow and fulfil its statutory duty to protect consumers".
He adds: "After nearly two years of consultation and an abundance of evidence that supports a significantly lower price cap, the CAA has finally adjusted course. However, an average cap of £27.49 until 2026, adjusted for inflation, still penalises passengers at the world's most expensive airport which, by its own admission, grew more than any other airport last year."
CAA chief executive Richard Moriarty says the regulator has "carefully considered the sharply differing views" from Heathrow and the airlines in reaching its decision, noting that "their respective shareholder interests lead the airport to argue for higher charges and the airlines to argue for lower charges".
He adds: "Our job is to reach an independent decision from these conflicting commercial interests and focus on what is in the best interests for the travelling public that will use Heathrow in the years to come. In doing so, we have taken all the points made by Heathrow Airport Limited and airlines into account, along with extensive consultation and our own detailed analysis.
"We are confident our final decision represents a good deal for consumers using Heathrow, while having regard for the airport's need to efficiently finance its operations and be able to invest in improving services for the future."
The airport and airlines have the option of appealing to the UK Competition and Markets Authority. Heathrow says it will "take some time to carefully consider our next steps", while Virgin Atlantic says it will also review its position "carefully".
FlightGlobal has approached British Airways, Heathrow's largest airline, for comment.