Heathrow Airport expects to handle around 45 million passengers next year, still only a little over half of pre-crisis levels as renewed travel restrictions relating to the Omicron strain of Covid-19 outweigh recent gains in the transatlantic market.
The London hub reported a 50% increase in passengers on North American routes in November, to almost 650,000, after the long-awaited lifting of border restrictions to the USA prompted an increase in flight activity.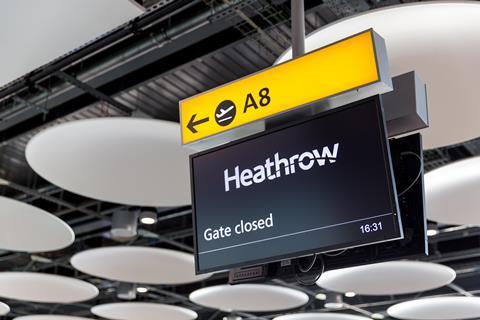 This contributed to 3.06 million passengers handled at Heathrow in November – a slight increase on the 3.04 million it handled in October. Under normal circumstances traffic levels would be expected to drop between October and November because of seasonality trends.
It meant for a second consecutive month Heathrow recorded its busiest month for passenger traffic since the March 2019.
However passenger levels are still less than half the 6.2 million passengers Heathrow handled in November 2019.
While Heathrow and network carriers have long pressed for eased restrictions on travel rules to the USA to provide a step change in the air travel recovery, their encouragement when this finally happened has been cut short by the emergence of the Omicron variant. This has prompted states to re-introduce tighter restrictions again, at least until more is known about this strain of the virus.
Heathrow highlights a "high level" of cancellations by business travellers concerned at "being trapped overseas because of pre-departure testing" and calls for the lifting of restrictions as soon as it is safe to do so.
"Heathrow forecasts a slow start to 2022, finishing next year with around 45 million passengers – only just over half of the airport's pre-pandemic levels," the airport says. Heathrow handled 80.9 million passengers in 2019.
"We do not expect that international travel will recover to 2019 levels until at least all travel restrictions (including testing) are removed from all the markets that we serve, at both ends of the route, and there is no risk of new restrictions, such as quarantine, being imposed. This is likely to be several years away," the airport says.
Heathrow has been the hardest hit of the major European hubs since the pandemic. The UK airport, reporting passenger traffic 56.5% below 2019 levels in October, was again the hub with the biggest reduction on pre-crisis levels. It is also well below the average 36.7% passenger traffic reduction in October reported across all European airports by ACI Europe.
Governments around the world have added a number of restrictions, particularly around testing requirements, since news of the Omicron variant emerged.
At the same time airlines have reported a softening in demand, at least in the near-term, since the fresh restrictions came in. Figures from Eurocontrol released today appear to indicate a slowing of airline activity in the region. European flight activity was down 75% for the week commencing 3 December on 2019 levels. Flight activity in November had reached 77% of pre-crisis levels.