JetBlue Airways is launching 24 domestic and international routes as part of a strategy to quickly generate cash from an expected growth in demand for leisure travel.
Flights for the new routes will commence in November and December, the airline says on 10 September..
The New York-based carrier has added flights from Newark Liberty International to Aruba Queen Beatrix International airport; Cancún International airport; Montego Bay, Jamaica Sangster International airport; Nassau, Bahamas Lynden Pindling International airport; Turks and Caicos Providenciales International airport; Punta Cana International airport; and Sint Maarten Princess Juliana International airport.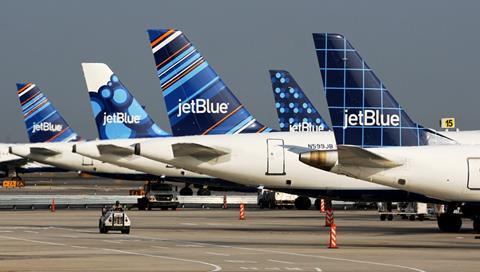 New domestic destinations from Los Angeles International are Charleston International, Palm Beach International, Raleigh–Durham International and Richmond International. New international destinations from Los Angeles include Cancun International; Liberia, Costa Rica Daniel Oduber Quiros International; and San Jose, Costa Rica Juan Santamaría International.
JetBlue has also added new leisure routes from Tampa International and Fort Myers Southwest Florida International.
"This is the latest example of JetBlue's ability to be nimble and play offense as we quickly adjust to new customer behaviors and booking patterns," JetBlue's revenue and planning chief Scott Laurence states. "This latest series of new routes – even in the current environment – advances our revised network strategy, returns more aircraft to the skies and doubles down on our ability to generate more cash sooner."
JetBlue will be returning to service some of its temporarily parked aircraft to support the new routes.